2021 is the deadliest weather disaster year since 2017
Already, 538 people have lost their lives in billion-dollar weather and climate disasters this year
This year is the deadliest year for major weather disasters in the United States since 2017.
According to NOAA, the U.S. had been struck by 18 billion-dollar weather or climate disasters in 2021 through the year's first nine months. 2020 holds the all-time record for the number of weather or climate disasters causing at least $1 billion in damage, with 22 such events over the course of that entire year.
"We're on pace, through September, to exceed that total, although we haven't yet," said Deke Arndt, Chief of Climate Science and Services Division at NOAA's National Centers for Environmental Information.
2021's disasters include nine severe weather events, four tropical cyclones, two flooding events, one combined drought and heat wave, one wildfire event and one combined winter storm and cold wave.
WHAT'S THE DIFFERENCE BETWEEN A TROPICAL DEPRESSION, TROPICAL STORM AND HURRICANE?
Combined losses from this year's 18 billion-dollar weather disasters alone are in excess of $100 billion. This ranks among the five costliest years in NOAA's database dating back to 1981.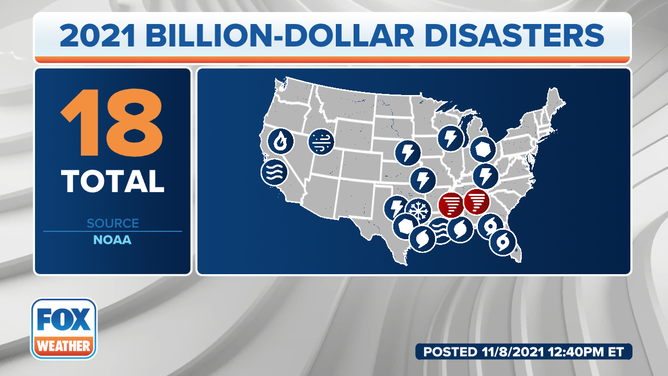 "Limiting to these 18 events, we have lost more than 500 people, and we've seen in addition to those, significant economic effects due to these 18 billion-dollar events," Arndt said.
Last year, billion-dollar weather disasters claimed only 262 lives, so we've already more than doubled that with the 538 deaths so far in 2021.
2017 was the last time over 500 people were killed by billion-dollar weather and climate disasters in a single year. There were 3,278 deaths from such events in 2017, of which 3,167 were from tropical cyclones alone, according to NOAA.
Hurricane Maria, which made landfall in Puerto Rico at Category 4 intensity in September 2017, was responsible for nearly 91% of the billion-dollar disaster deaths that year, claiming 2,981 lives.
2021 is a record seventh consecutive year in which the U.S. has experienced 10 or more billion-dollar weather or climate disasters.