2021 Atlantic hurricane season expected to remain active into peak months, NOAA says
The season shows no signs of slowing down as we enter the peak months for tropical cyclone activity
The 2021 Atlantic hurricane season will continue to be more active than usual, according to NOAA's midseason outlook released on Aug. 4. Following a record-breaking start to the season, this is not the good news for which coastal residents were hoping.

Forecasters from NOAA's Climate Prediction Center are predicting 15 to 21 named storms, seven to 10 hurricanes and three to five major hurricanes (Category 3 or higher on the Saffir-Simpson Hurricane Wind Scale). These numbers are greater than the 30-year averages (1991-2020) of 14 named storms, seven hurricanes and three major hurricanes.  

This updated outlook includes the five named storms that had already roamed the Atlantic Basin in May, June and July, including Hurricane Elsa, which became the earliest fifth-named storm on record on July 1.

"After a record-setting start, the 2021 Atlantic hurricane season does not show any signs of relenting as it enters the peak months ahead," said NOAA administrator Dr. Rick Spinrad. "NOAA will continue to provide the science and services that are foundational to keeping communities prepared for any threatening storm."

NOAA's initial hurricane season outlook issued in May called for 13 to 20 named storms, six to 10 hurricanes and three to five major hurricanes, so this midseason update was an increase in the numbers of both named storms and hurricanes, though it still expects the same number of major hurricanes this season.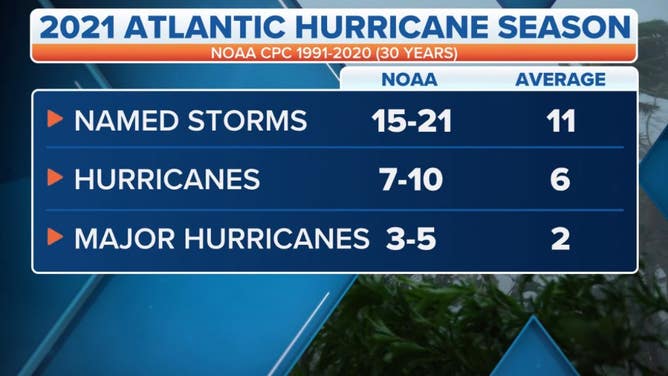 What atmospheric factors were being considered in the outlook?
El Niño Southern Oscillation (ENSO) conditions were in the neutral phase – neither El Niño nor La Niña – as of early August. However, there is the possibility of La Niña conditions returning during the second half of hurricane season in September, October and November. A La Niña watch has been posted by the CPC, meaning conditions are favorable for the development of La Niña within the next six months.
"A mix of competing oceanic and atmospheric conditions generally favor above-average activity for the remainder of the Atlantic hurricane season, including the potential return of La Niña in the months ahead," said Matthew Rosencrans, lead seasonal hurricane forecaster at the CPC. "ENSO-neutral and La Niña support the conditions associated with the ongoing high-activity era."
NOAA scientists are also continuing to study how climate change can affect the strength and frequency of tropical cyclones around the globe.
Last year, a record 30 named storms formed in the Atlantic Basin, of which 14 strengthened into hurricanes. Fortunately, NOAA does not expect that many storms this season, but it still predicts above-average activity overall.
One caveat to this forecast is that it doesn't indicate how many of the predicted 15 to 21 named storms could impact the United States this season. It's possible that one or more of these storms may strike the U.S., or perhaps none of them will.
"Although NOAA scientists don't expect this season to be as busy as last year, it only takes one storm to devastate a community," Ben Friedman, acting NOAA administrator, said in May. "The forecasters at the National Hurricane Center are well-prepared with significant upgrades to our computer models, emerging observation techniques and the expertise to deliver the life-saving forecasts that we all depend on during this, and every, hurricane season."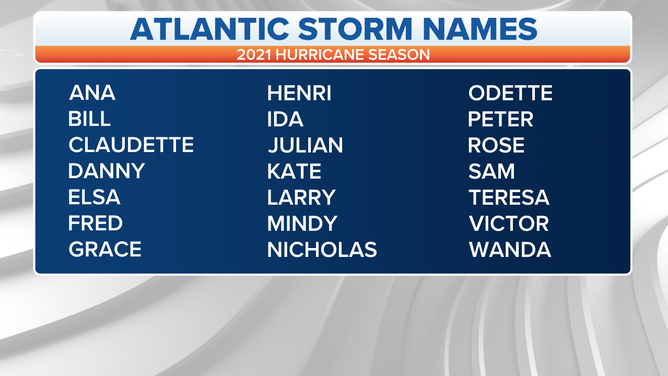 Several improvements were recently made to NOAA's products to improve hurricane forecasting this season. In March, NOAA upgraded its Global Forecast System (GFS) computer model to improve hurricane genesis forecasting. Additionally, NHC forecasters are now using a new storm surge model that provides guidance out to 60 hours.
The record-breaking hurricane season of 2020 serves as a reminder that residents of the coastal United States need to be prepared for another active season ahead. FEMA's Ready.gov can help you prepare before a hurricane strikes.
When is the Atlantic hurricane season?
The Atlantic hurricane season officially runs from June 1 to Nov. 30 each year. This six-month period was chosen by the NHC because it accounts for 97% of all Atlantic tropical storms and hurricanes, according to NOAA's Hurricane Research Division.
That means only 3% of Atlantic tropical cyclones occur outside of those dates, with the majority of out-of-season activity occurring in May or December. However, there has been either an Atlantic tropical storm or hurricane in every month of the year, as can be seen in the graph below.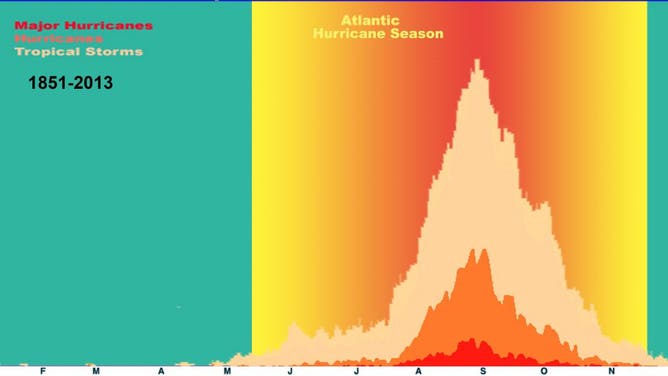 We've had an early start to the hurricane season every year since 2015, including this year with Tropical Storm Ana's brief existence May 22-23, so that proves that not every season follows a strict calendar.
Despite this seven-year streak from 2015-21, the NHC has not yet adjusted the start date of hurricane season, although it did begin issuing routine Atlantic tropical weather outlooks on May 15 this season instead of the usual June 1.
The NHC says the peak of hurricane season is from mid-August to late October, with Sept. 10 marking the official peak date of the season.