10-year plan aims to reduce US wildfire risks by increasing prescribed burns, thinning
The strategy focuses on newly identified high-risk 'firesheds' – large, forested areas that could pose a danger to homes, infrastructure and natural resources if they ignite.
Federal officials announced a new strategy Tuesday aimed at reducing the wildfire risk across the West by stepping up management efforts of forests and grasslands.
At the heart of the three-pronged plan announced by Agriculture Secretary Tom Vilsack and Forest Service Chief Randy Moore is an increase in the acreage of federal lands that are treated with prescribed burns and thinning of fuels – 20 million acres over a 10-year period.
7 THINGS TO KNOW ABOUT PRESCRIBED BURNS

The second part of the plan calls for federal agencies to work with states, tribes and local communities to treat 30 million acres of non-federal land and to invest in technologies aimed at helping communities with a high wildfire risk adapt to fire.
Finally, the plan calls for federal agencies to develop a long-term maintenance strategy to address wildfire risks beyond this 10-year period.
About $3 billion earmarked for wildfire mitigation in the recently-enacted infrastructure bill will be used to begin implementing the plan.
Identifying 'firesheds'
Scientists at the Forest Service have identified large, forested areas that could pose a danger to homes, infrastructure and natural resources if they ignite. Each of these so-called "firesheds" average about 250,000 acres.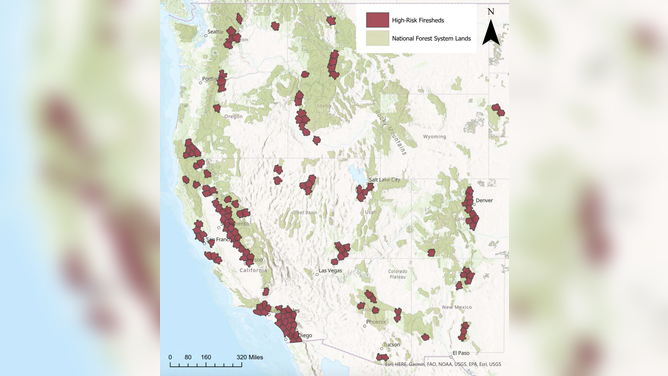 According to a report by the USDA, less than 10% of fire-prone forests in the West account for about 80% of the wildfire risks to communities.
Wildfires 'outpace' existing efforts
According to the National Interagency Fire Center, there have been 3 years in the past decade where more than 10 million acres have been burned by wildfires – 2015, 2017 and 2020.
Final numbers for 2021 have not yet been tabulated, but an October report by the Congressional Research Service said that more than 5.9 million acres were scorched by wildfires during the year.
The five-year running average of structures destroyed by wildfires has increased fourfold in the past six years, according to the USDA. In 2014, a little more than 2,800 structures were destroyed by widlfires. In 2020, that number climbed to more than 12,200 structures.
AMAZING RESCUE: DOG RAN AWAY IN AUGUST WILDFIRE, RESCUED IN FEET OF SNOW
"The negative impacts of today's largest wildfires far outpace the scale of efforts to protect homes, communities and natural resources," Vilsack said in a USDA press release. "Our experts expect the trend will only worsen with the effects of a changing climate, so working together toward common goals across boundaries and jurisdictions is essential to the future of these landscapes and the people who live there."
NIFC reported there have already been 457 wildfires in the U.S. this year that have burned more than 7,000 acres, as of Jan. 14.