Wolf Moon: Southeast offers best bet to view first full moon of 2022
The Wolf Moon rises at 5:39 p.m. ET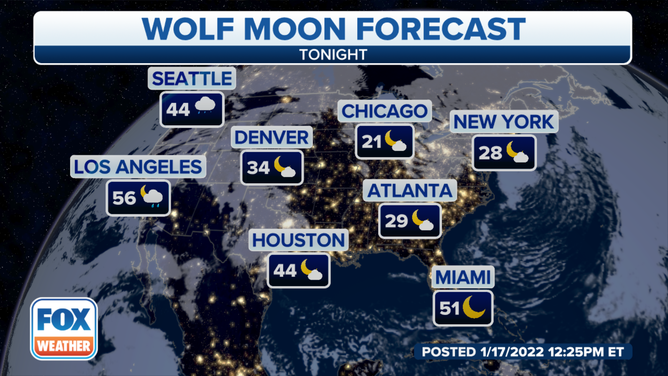 The first full moon of the year, known as the Wolf Moon, rises Monday night, and if the weather is right, it's an excellent time to get outside and gaze up.
If you live in the Southeast, you're in luck. The moon rises at 5:39 p.m. ET, according to Timeanddate.com, and cloud cover should be minimal enough for a nice view of the moon. Peak illumination happens at 6:48 p.m., according to NASA.
Parts of the Central U.S. should also have a partly cloudy sky and a good chance to enjoy the bright moon. The moon rises at 5:03 p.m. in Kansas City, Kansas, according to Timeanddate.com.
The northeast might be a tough spot for sky gazing as much the Northeast and New England are getting dumped on with snow and gusting winds from the ongoing winter storm.
As no two full moons look the same, each has a name or even multiple names from different countries and cultures.
The origin story of how the Wolf Moon, the first full moon of the year, got its name varies.
"Wolf Moon is also an old European name for the second full Moon of winter (the midwinter Moon)," NASA's Gordon Johnston writes. "Another European name for this full Moon is the Candles Moon, tied to Candlemas on Feb. 2."
The Farmer's Almanac has been publishing the Native American names for full moons since the 1930s, according to Johnston.
Full moon names come from the month they occur, not just when the full moon itself happens.
In the winter it was thought wolves were howling at the moon out of hunger, according to the Farmer's Almanac. Wolves howl for different reasons, but the name Wolf Moon has stuck. 
Other names for the Wolf Moon include the Center Moon, Cold Moon and the Great Moon.
Europeans called the first moon of the year the Moon after Yule because it followed a winter solstice festival in pre-Christian Europe.
The next full moon happens on Feb. 16 and is known as the Snow Moon.