Blue Origin pushes launch date due to wind; William Shatner and crew arrive for training
Actor William Shatner, 2 businessmen and a Blue Origin executive are set to launch on Oct. 13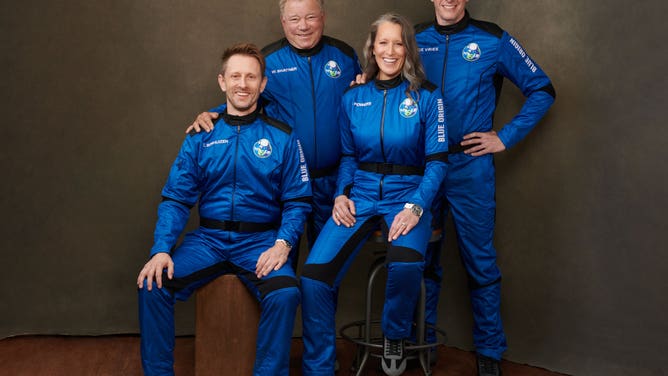 Blue Origin is preparing to launch Captin Kirk, two paying customers, and a longtime employee, to the edge of space on Wednesday from its launch site in West Texas. 
The reusable New Shepard rocket and crew capsule will liftoff after 9 a.m. CT. The launch was initially planned for Tuesday morning, but Blue Origin delayed takeoff until Wednesday due to forecasted winds around the launch site. 
 "As part of today's Flight Readiness Review, the mission operations team confirmed the vehicle has met all mission requirements, and astronauts began their training today," the company said in a statement Sunday. "Weather is the only gating factor for the launch window."
Blue Origin didn't elaborate on what the wind threshold was for liftoff, but National Weather Service models show winds were expected to be between 10-20 mph early Tuesday and increasing later in the day with winds at 20-30 mph with gusts as high as 45 mph.
Blue Origin Lead flight director Nick Patrick said in a video posted by Blue Origin the decision was based on liftoff winds and upper-level winds. The gusty conditions also delayed the rocket rollout to the pad pushing the new launch window until 9 a.m. Wednesday.
Onboard New Shepard-18 will be "Star Trek" legend William Shatner, Blue Origin vice president Audrey Powers, Planet Labs co-founder Dr. Chris Boshuizen and Medidate co-founder Glen de Vries.
Boshuizen and de Vries are the second and third space tourists to purchase a ride on New Shepard. In July, 18-year-old Oliver Daeman became the first paying customer during the company's first human spaceflight that included Blue Origin founder billionaire Jeff Bezos. 
The recent addition of 90-year-old Shatner to the crew for Tuesday's launch is exciting for fans of the actor who played Captain James Kirk for three seasons in the late 1960s and then again in seven "Star Trek" movies. 
In a video released by Blue Origin Friday with Shatner and Powers, the actor wanted to make sure his crewmate got equal attention.
"She's a space lawyer. How many space lawyers do you know?" Shatner quipped.
Powers is a former NASA engineer who later became a lawyer. She joined Blue Origin in 2013 and worked as deputy general counsel for the company before leading New Shepard's mission and flight operations team. 
Asked how he'll spend his precious moments in space, Shatner said he will have his "nose pressed against the window."
Shatner has a new spoken word album out called "Bill" and said he plans to write a song when he returns from his spaceflight about his love of Earth.
According to his post on Instagram, de Vries arrived at the Blue Origin outpost late this week via his private plane. To celebrate his trip to space, he's donating $1 million to water.org, an international nonprofit dedicated to water access and sanitation issues.
Over the weekend, the rest of the crew, including Shatner, arrived at Blue Origin's astronaut village to begin pre-launch training.
Blue Origin has not disclosed how much de Vries or Boshuizen are paying for their seats. Earlier this year, the company held a bidding war, selling a seat for $28 million, but the winner hasn't flown yet. Blue Origin used the top bidders from the auction to begin filling more crewed flights.
The New Shepard booster will launch from Van Horn, Texas, and the crew capsule will separate minutes later, sending it above the Karman line, the internationally recognized boundary of space. The crew will experience minutes of weightlessness and look out the large windows of the spacecraft before buckling back in for a landing.
The capsule lands with the help of parachutes about 1 mile from where it launched; meanwhile, the rocket booster also lands upright on landing legs nearby.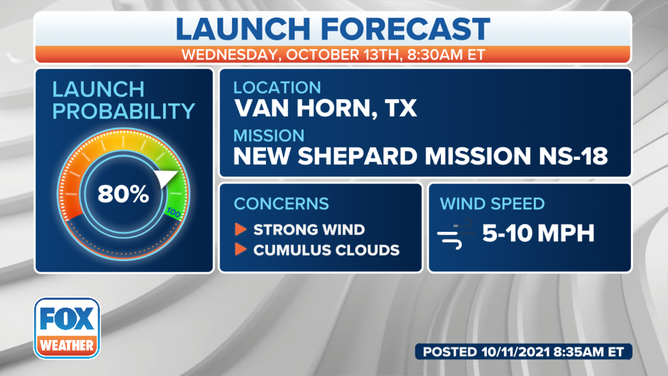 The launch window opens at 8:30 a.m. CT. FOX Weather meteorologists are predicting a favorable chance of an on-time liftoff. Some concerns include winds and cumulus clouds. Liftoff winds will be around 5-10 mph around 9 a.m. CT.
Overall, the launch probability is 80% favorable. 
The launch will stream live on social media and BlueOrigin.com, beginning 15 minutes before the scheduled liftoff.