What's going on with Starship? SpaceX CEO Elon Musk is about to tell us
Entire Starship and booster stacked in Texas ahead of Musk's remarks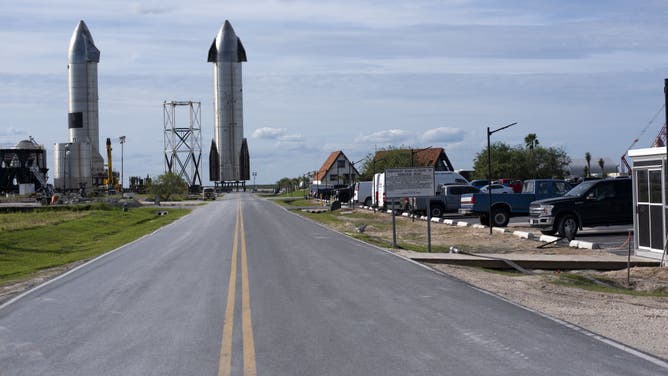 When NASA astronauts walk again on the moon, they'll be stepping out of SpaceX's Starship, a gleaming 160-foot spaceship built and tested in Texas. That historic return is only a few short years away if NASA sticks to the current 2025 goal.
SpaceX CEO Elon Musk plans to provide an update Thursday on the massive spaceship selected by NASA under its human lunar landing system contract to return Americans to the surface of the moon.
It's been 10 months since SpaceX last launched its futuristic spaceship known as Starship on a test flight from the Texas beach community of Boca Chica, now home to the sprawling Starbase facility. In case you missed it, in May 2021, the Starship prototype known as SN15 successfully flew to about 6 miles above Texas then made a controlled return, landing back at the launch site. It was the first landing for Starship that didn't end in a giant fireball.
Before SN15, SpaceX conducted similar tests with prototypes SN11, SN10, SN9 and SN8. All of those tests ended in spectacular explosions when the spaceships crash-landed.
Here's the fiery result of the SN9 high-altitude flight test.
SpaceX has continued work on Starship and the Super Heavy booster in South Texas. Last year, NASA awarded SpaceX the $2.9 billion contract to develop Starship to return humans to the moon under the space agency's Artemis program. NASA is now working with SpaceX to use Starship for the first human moon landing in more than 50 years.
Musk is set to provide an update from Starbase on Thursday night. SpaceX will stream his remarks on YouTube. Ahead of his talk, the billionaire founder has been sharing images on Twitter of the entire Starship and Super Heavy booster stacked in Texas.
When it's fully assembled for launch, the rocket and booster stand at nearly 400 feet tall.
Musk and SpaceX have big plans outside of NASA missions for Starship. 
Japanese billionaire Yusaku Maezawa has purchased a ride on SpaceX's Starship to orbit the moon for himself and eight others. 
The launch vehicle was designed for deep space exploration to the moon and Mars. The spaceship and booster are reusable and fly on multiple missions capable of carrying 100 metric tons to Earth orbit.