Weather delays Axiom-1 mission splashdown off Florida's coast
New Dragon spacecraft departure time is TBD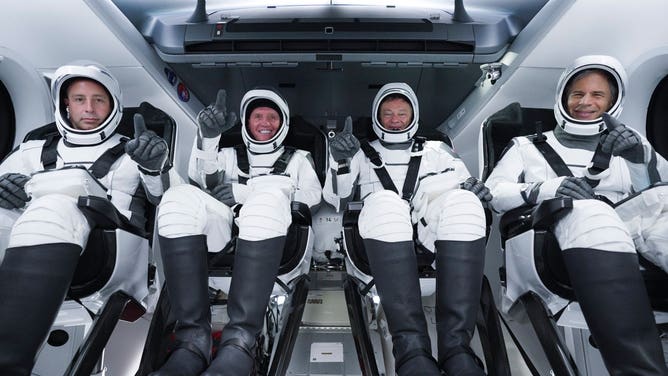 Four private astronaut visitors to the International Space Station will get more time in space after weather conditions off the coast of Florida were unfavorable for a SpaceX Dragon spacecraft to splashdown.
SpaceX launched the four private space explorers in the Dragon Endeavour spacecraft from Kennedy Space Center on April 8. The flight was the first mission for Axiom Space's private space program in which people pay around $55 million each to fly to the ISS.
NASA TO MOVE ARTEMIS MOON ROCKET BACK TO ASSEMBLY BUILDING AFTER TECHNICAL ISSUES HALT DRESS REHEARSAL
NASA astronaut and Axiom Space Vice President Michael López-Alegría led the spaceflight as the Ax-1 commander with Axiom customers Larry Connor, Mark Pathy and Eytan Stibbe.
Previously, the Axiom-1 mission was set to undock in the Dragon spacecraft around 10:30 a.m. Tuesday, then weather delayed the departure to 10 p.m. In the latest delay hours before their departure, NASA waved it off for the third time also because of weather.
NASA and SpaceX are working to determine the next best time for a splashdown. 
The private mission's return depends on Florida's west or east coast weather conditions. Forecasters will be looking for calm seas, low wind and no lightning for a safe spacecraft recovery.
There are seven potential splashdown sites around the Florida peninsula where SpaceX recovery teams could collect the spacecraft.
This year, the International Space Station will be busy with government and private astronauts.
In the next six months, Axiom Space is working with SpaceX and NASA on another private mission to the ISS.
On Monday, the next four astronauts scheduled to launch on April 23 on a long-duration mission arrived at Kennedy Space Center.