Watch: This stunning Milky Way timelapse at Zion National Park will leave you star-struck
It's truly an invitation to appreciate the night sky
SPRINGDALE, Utah – Stargazers will find beauty in this stunning timelapse video of the Milky Way moving across the sky at Zion National Park.
It's truly an invitation to appreciate the night sky thanks to the US Department of Interior, which posted the video on its Facebook page on May 17.
SLEEPING UNDER STARS WILL COST MORE AT STATE PARKS AS CAMPING GROWS IN POPULARITY
The video was taken by park ranger Avery Sloss and shows the jagged peaks of the park's Watchman mountain. It reveals a dazzling array of stars against the sandstone cliffs.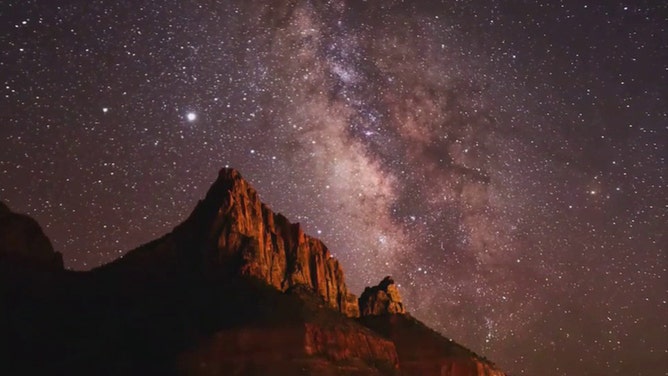 Utah's first national park is situated in the southwestern region of the state near the Arizona and Nevada border.
OASIS AMID THE DESERT: ZION NATIONAL PARK IS A TREASURE OF THE WEST
Nearly two-thirds of Americans today live in an area where it is difficult to see the stars because of light pollution. The increase in artificial light has decreased the visibility of the night sky. And that is why national parks are some of the few places left in the country to see dark skies, the National Park Service said. 
In 2021, it became certified as an International Dark Sky Park, the National Park Service said. The certification, granted by the International Dark-Sky Association, "recognizes the exceptional quality of the park's night skies."
HOW THE TELESCOPE BECAME OUR WINDOW INTO THE UNIVERSE
More than 5 million people visited the park in 2021. The NPS said that visitation to Zion National Park has been increasing for decades, and the park is among a small group of national park areas to ever exceed that many annual visits.
CLICK HERE TO GET THE FOX WEATHER UPDATE PODCAST
Be sure to download the FOX Weather app for the latest forecast and weather alerts for your exact location, plus the 24/7 livestream of America's Weather Team.