SpaceX launches another batch of Starlink satellites from Florida
Falcon 9 launches carrying 48 Starlink satellites, 2 BlackSky spacecraft to low-Earth orbit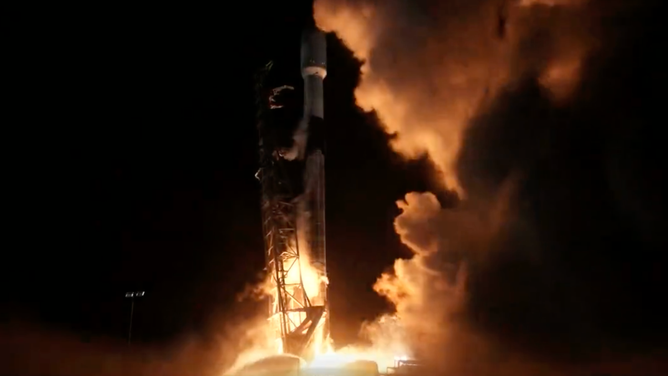 CAPE CANAVERAL – SpaceX launched dozens of its internet-beaming Starlink satellites and another ride-sharing mission from Florida's Space Coast on Thursday night.
Elon Musk's company returned to regularly launching its internet satellites on Nov. 13 after a months-long hiatus to upgrade its spacecraft fleet.
The next batch of satellites launched on a Falcon 9 rocket at 6:12 p.m. ET on Thursday from Cape Canaveral Space Force Base Space Launch Complex 40.
It was a lovely evening on Florida's Space Coast for a rocket launch. At dusk, with a clear sky, the Falcon 9 could be seen from all over Central Florida as the rocket accelerated away from Earth. 
According to the 45th Weather Squadron launch forecast, there was less than a 10% chance of a delay due to weather. 
About 8 minutes after launch, the rocket's booster made its ninth landing on a drone ship in the Atlantic Ocean. It also marked the 129th successfully landing of a Falcon 9 booster. SpaceX re-flies the boosters to drive down the cost of launch.
SpaceX confirmed Falcon 9 would be launching 48 Starlink satellites and two BlackSky satellites. The liftoff was arranged through launch ride-share manager Spaceflight Inc.
BlackSky has a small satellite constellation that provides geospatial intelligence, imaging Earth from targeted locations, according to the company. Most recently, two BlackSky satellites launched Nov. 18 from New Zealand on a Rocket Lab Electron launch vehicle.
The launch marked the 27th overall for SpaceX this year.
SpaceX plans to provide high-speed global internet with its constellation of, eventually, thousands of satellites. Already Starlink has service available for customers in the U.S., Canada, the United Kingdom, Germany, New Zealand, Austria, Belgium, Switzerland, France, the Netherlands, Denmark, Ireland, Chile and Poland.

Customers interested in this new space-based internet can sign up with a $500 deposit. The Starlink kits include a dish nicknamed "dishy" and can be set up using a smartphone.
According to the Starlink website, the dishes can withstand severe weather, including freezing temperatures, heat, hail, sleet, heavy rain, and gale-force winds. The website boasts that dishy "can even melt snow."
More than three years ago, SpaceX began launching Starlink satellites to create a space-based internet. There are now more than 1,700 Starlink satellites orbiting the planet.