Jogger's prehistoric find along California beach wows museum collectors
Santa Cruz Museum of Natural History found Jim Smith after an international plea to find the molar tooth of the Pacific mastodon spotted on Rio Del Mar beach last Friday.
SANTA CRUZ, Calif. – Memorial Day weekend became more than just sunburns and hot dogs for a California man on a morning jog and stumbled upon a historic find.
Santa Cruz Museum of Natural History said a tourist visiting Rio Del Mar Beach on Friday came across an unusual object. She snapped a picture of it and shared it on social media, where it caught the attention of Wayne Thompson, the museum's paleontologist, who identified it as a molar from a Pacific mastodon. The woman told Thompson where to find the fossil, but it was gone by the time he arrived.
PREHISTORIC SABERTOOTH SKULL FOUND IN IOWA LIKELY LAST OF SPECIES TO WALK EARTH, RESEARCHERS SAY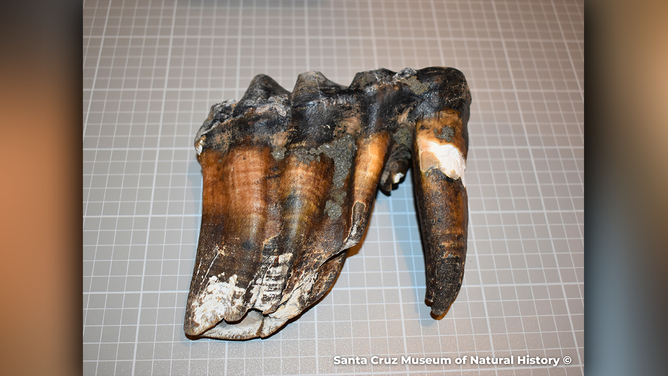 Museum leaders put out an international call to the public in hopes of locating the tooth. Jim Smith responded on Tuesday after seeing the news and said he had picked it up during his jog.
"I was so excited to get that call," said Liz Broughton, visitor experience manager at the museum. "Jim told us that he had stumbled upon it during one of his regular jogs along the beach, but wasn't sure of what he had found until he saw a picture of the tooth on the news. He was so excited to hear it was a mastodon tooth and was eager to share it with the museum."
 OLDEST SEA REPTILE REMAINS FROM 2 MILLION YEARS AGO FOUND ON ARCTIC ISLAND

This wasn't the first time a mastodon fossil was found in the area. The museum said they have a long history of them. 
In 1980, a 16-year-old found a mastodon skull in Aptos Creek, which he excavated and spent years meticulously repairing. It is one of the many specimens on display at the museum. 
DISCOVERY OF 256 FOSSILIZED TITANOSAUR EGGS SHEDS NEW LIGHT ON DINOSAUR SPECIES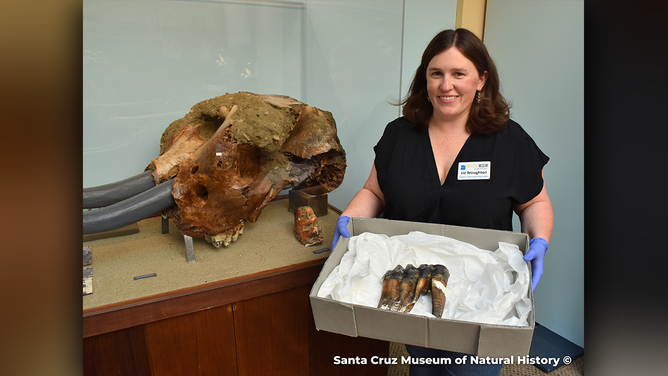 "We are thrilled about this exciting discovery and the implications it holds for our understanding of ancient life in our region," the museum's executive director, Felicia B. Van Stolk, said. "We are grateful that our community has rallied behind the search for the tooth so that we may help protect and share this significant specimen with the public."
Museum officials said they plan to make the specimen available for scientific study and exhibit it soon.