Repeat flier, Mexican-American engineer and crypto investor will be on Blue Origin's next human spaceflight
Evan Dick launched with Blue Origin in December, he just signed up to go again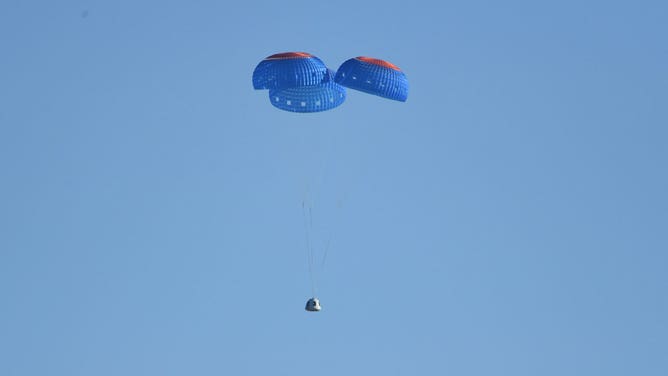 Have you ever gotten off a rollercoaster ride and then immediately got in line to go again? Engineer and investor Evan Dick did just that after he experienced a few minutes of weightlessness on a Blue Origin spaceflight last year. 
The company founded by billionaire Jeff Bezos announced Monday that Dick would fly again on the next human spaceflight, along with five others.
Since last July, Blue Origin has been launching space tourists in its New Shepard rocket from the company's West Texas launch site. On Monday, the company revealed the crew members for its fifth human spaceflight, New Shepard-21.
The launch is planned for May 20 at 8:30 a.m. CDT.
Dick, a managing member of Dick Holdings, flew on New Shepard's 19th overall flight in December. 
Joining Dick will be Katya Echazarreta, a YouTube star and former NASA electrical engineer. According to Blue Origin, Echazaretta will be the first woman born in Mexico to achieve spaceflight. Her ride was sponsored by the nonprofit Space for Humanity. A graduate student at Johns Hopkins University, Echazaretta co-hosts the YouTube series "Netflix IRL" and previously worked at NASA's Jet Propulsion Laboratory. 
HOW FORECASTING FOR BLUE ORIGIN LAUNCHES COMPARES TO THE SPACE SHUTTLE
Hamish Harding is a business jet pilot with several aviation world records and the chairman of jet brokerage company Action Aviation. Harding lives in the United Arab Emirates with his wife and sons. 
Victor Correa Hespanha, 28, is a civil production engineer from Brazil. The Crypto Space Agency sponsored his flight with Blue Origin. The group says it combines space technology with crypto, and Hespanha will be the first "cryptonaut."
Technology and sports startup investor Jaison Robinson will take his exploration to a new level with the Blue Origin flight. He scuba dives, skydives and has hiked Antarctica. He was also a finalist for the "Survivor" season in Samoa.

CLICK HERE TO GET THE FOX WEATHER UPDATE PODCAST
Robinson isn't the only extreme explorer. Victor Vescovo, a retired Navy Reserve intelligence officer, is the co-founder of Insight Equity. He has completed the "Explorer's Grand Slam," summiting the world's seven summits and has dived to the deepest point in the ocean now 12 times.
Blue Origin has not revealed the cost of a seat on New Shepard, but an auction for the first human spaceflight ended with a $28 million bid.