Pesticide-free milkweed for butterfly gardens may be hard to find at nurseries, new study finds
Large and small nursery retailers were found to have as many as 28 chemicals on a milkweed plant. Conservations said they want people to continue to plant pollinator gardens but take steps to avoid adding chemicals when they can.
Gardeners hoping to aid the endangered monarch butterfly by planting milkweed might have a difficult time avoiding harmful pesticides if they shop at nurseries, according to a new study.
The University of Nevada, Reno and Xerces Society for Invertebrate Conservation gathered more than 200 milkweed leaf samples from retail nurseries across 15 states and tested them for pesticides. Their findings were published this week in the journal Biological Conservation.
Milkweed is the primary food source for caterpillars, and adult monarchs use it as a breeding ground.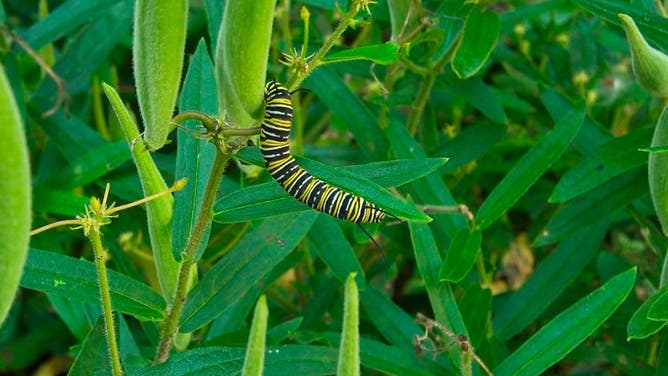 "Milkweed is really important to the monarch butterfly. All butterflies have specific host plants that they depend on. The milkweed happens to be the host plant for monarch butterflies," explained study coauthor Matt Forister, professor of biology at the University of Nevada, Reno. 
Over the last few decades, the western monarch butterfly population has dropped from the millions recorded in the 1980s to as low as 1,800. One of the biggest threats to the butterflies is the loss of breeding habitat throughout the U.S., which is why conservationists recommend people plant native milkweed in their gardens.
"We wanted to understand the pesticides that are used in and around and on milkweed in nursery production," explained Aimee Code, pesticide program director at the Xerces Society for Invertebrate Conservation. "That's why we kind of went across the country and bought milkweed plants from retailers to better understand what kind of chemicals we might find on those plants, and on the day of purchase, what are we going to see." 
MONARCH BUTTERFLIES ARE NOW LISTED AS ENDANGERED
The study's lead author Christopher Halsch explained that pesticides are broken down into herbicides, fungicides and insecticides.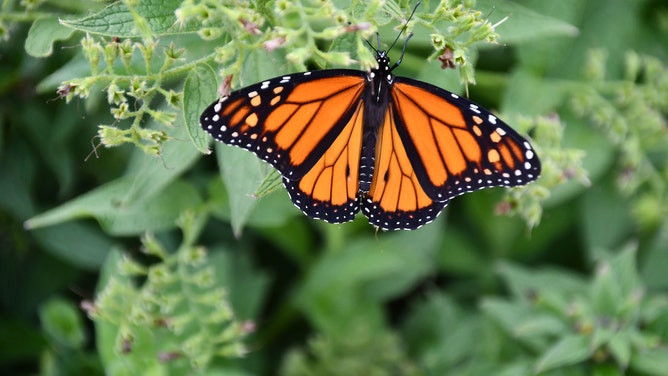 "Generally, these things being on leaves … almost certainly not with the intention of going after the monarch, but they can end up on leaves, and then a caterpillar that happens to have its egg laid there ends up on this leaf," Halsch said. "And you have compounds that are designed to, in some cases, literally attack caterpillars, in other cases go after fungus, which has been shown to have negative impacts on the physiology of caterpillars."
Over 60 pesticides were found during the study, with as many as 28 chemicals on one plant. Only nine of those chemicals have been tested to understand the impacts on monarchs; the impacts of the others are generally unknown. Halsch said additional studies are needed to know the full effect of all the chemical compounds found on nursery plants.
"I was surprised we saw as strong that signal as we did, as we know almost nothing about compounds. And of the ones we do, we found some harmful concentrations," Halsch said. "When you are finding 12 compounds per leaf on average, and most of those are unknown.
Halsch said more information about the compounds can have a meaningful effect on understanding how they impact wild caterpillars, which are not usually their targets.
The survey included large retailers and small local nurseries. 
"A single location store was just as likely to contain something harmful as a large corporation you purchase from," Halsch said.
What can a home gardener do to avoid harmful chemicals?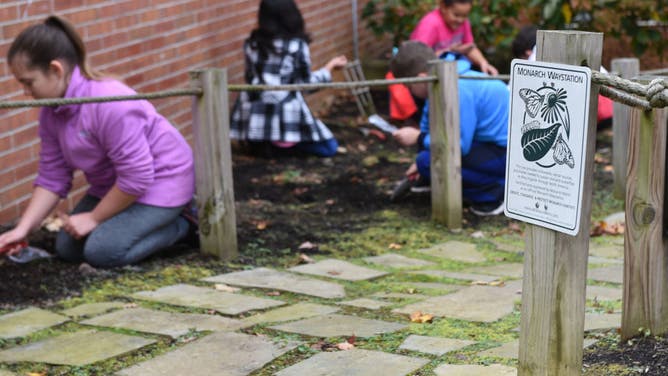 Experts said that although this news might be frustrating to home gardeners looking to help pollinators, there are steps that can be taken to reduce chemicals in those regardless of where the milkweed is purchased. 
The problem of pesticides is not just about monarchs but is a concern for many insects. Home gardeners can make things worse by spraying other pesticides in their yards when it may not be necessary and, ultimately, more harmful. Code recommends researching the problem before using chemicals or contacting a local extension office for help.
Also, be aware of unregulated claims on plant labels. 
"Don't assume that 'pollinator-friendly' or 'valuable to wildlife' means anything. It's not related to pesticide use," Code said. "It means that's a plant that would attract them."
Researchers with the study found plants in nurseries with these "wildlife-friendly" labels had just as many chemicals as those without. 
Wherever a gardener turns for help, Forister said they should ask about non-chemical options for their garden. 
"Use this as a reminder to not be adding more toxins to your garden," Forister said.
HOPE FLOATS: WESTERN MONARCH BUTTERFLY COUNT YIELDS HIGHEST TOTAL IN 5 YEARS
Forister said additional research is needed to determine if there are more steps an individual can take when they bring home milkweed purchased from a nursery, such as removing the plant from the soil it came in or washing the leaves. 
A recent population survey this winter found a monarch butterfly population increase. Still, experts warn that is not a sign they are on the rebound.
"It's like a stock. You can have a stock that's bouncing around and going down over time, but you're still going to have a couple of good years," Forister sid. "So the Monarchs have had a couple of good years, and that's fine. There are many other butterflies in North America that have not had a couple of good years and are also on downward trajectories."
The study's authors stressed it is crucial to keep pollinating gardens growing along with taking steps to reduce pesticides to be part of the solution.