NASA targets November Artemis 1 launch after moon rocket survives Ian unscathed
NASA is now targeting between Nov. 12 and Nov. 27 to launch the Orion spacecraft on the Artemis-1 test flight around the moon.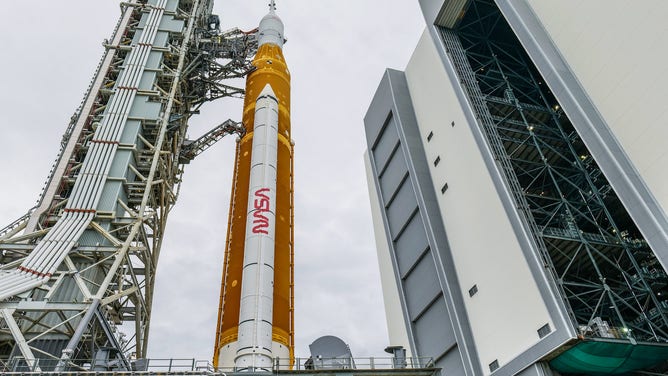 KENNEDY SPACE CENTER, Fla. – NASA's mega moon rocket survived its first hurricane this week after Ian caused the space agency to roll the Space Launch System rocket and Orion spacecraft back into the hangar for safety ahead of the major storm.
NASA managers made the call last weekend to roll the Artemis-1 vehicles back from the launchpad at Kennedy Space Center into the Vehicle Assembly Building when the forecast for Ian still included the space center in the cone of uncertainty.

Ultimately, Ian made landfall Wednesday on the opposite coast of Florida as a Category 4 hurricane, leaving widespread flooding damage and an increasing death toll. After trekking northeast up the I-4 corridor, Ian left the Florida Peninsula, causing flooding from coast to coast, before making a fourth and final landfall in South Carolina on Friday.
Ahead of Ian's impacts, the 322-foot-tall SLS was rolled back into the hangar in plenty of time to ride out the storm. Teams at NASA's Kennedy Space Center have been conducting initial inspections since the storm passed to look for any damages from Ian. 
The initial review offered good news and a new launch window for the uncrewed Artemis-1 mission around the moon.
"There was no damage to Artemis flight hardware, and facilities are in good shape with only minor water intrusion identified in a few locations," NASA wrote in a post. "Next, engineers will extend access platforms around the Space Launch System rocket and Orion spacecraft inside the Vehicle Assembly Building (VAB) to prepare for additional inspections and start preparation for the next launch attempt, including retesting the flight termination system."
With the work ahead, NASA is now targeting between Nov. 12 and Nov. 27 to launch its moon rocket on the maiden voyage around the moon. The Artemis-1 mission will set the stage for a human moon landing in 2025. 
ARTEMIS-1 MOON ROCKET FUELING TEST COMPLETE AFTER NASA ENGINEERS OVERCOME HYDROGEN LEAK
The November launch attempt will be the third try for NASA since late August to send the Orion monthlong mission orbiting the moon. Previous attempts were thwarted by an engine cooling issue and multiple liquid hydrogen leaks. The SLS is fueled with more than 700,000 gallons of supercold liquid oxygen and hydrogen.
Also delayed by Ian, NASA and SpaceX are targeting Wednesday, Oct. 5 for the next astronaut launch from Florida to the International Space Station.