NASA reestablishes contact with Voyager 2 located more than 12 billion miles from Earth
NASA announced Friday that the "interstellar shout" worked and Voyager 2 is once again sending back data. The reoriented itself turning the antenna back to Earth.
NASA has reestablished contact with its interstellar spacecraft Voyager 2 after an incorrect command pointed the spacecraft away from Earth, cutting off data for about two weeks.
An incorrect command sent to Voyager 2 on July 21 left the mission science team at NASA's Jet Propulsion Laboratory in California unable to get data from the spacecraft.
NASA keeps in contact with the twin spacecraft Voyager 1 and 2 through its system of ground antennas known as the Deep Space Network (DSN). NASA said it lost contact with Voyager 2 on July 21 after a series of planned commands sent to the spacecraft caused an unintended shift in its antenna to point 2 degrees away from Earth.
The data blackout would have continued until an automatic correction in October, but teams used the Deep Space Network antenna in Australia to send the correct command hoping to hit the intended target more than 12.3 billion miles from Earth.
TELESCOPE USED TO STUDY MYSTERIES OF UNIVERSE RELEASES FIRST IMAGES IN STUNNING DETAIL
"October is a long time to wait," Voyager project scientist Linda Spilker at NASA's JPL told FOX Weather last week. 
NASA announced Friday that the "interstellar shout" worked and Voyager 2 is once again sending back data. The spacecraft reoriented itself, turning the antenna back to Earth. 
It took about 18.5 hours for the command to reach Voyager and 37 hours for controllers to learn if it worked, according to the space agency. 
"At 12:29 a.m. EDT on Aug. 4, the spacecraft began returning science and telemetry data, indicating it is operating normally and that it remains on its expected trajectory," NASA wrote.
VOYAGER 1 CONTINUES ZOOMING THROUGH INTERSTELLAR SPACE 45 YEARS AFTER ITS LAUNCH
The Voyager 1 and 2 spacecraft mission began in 1977 after both spacecraft launched separately from NASA's Kennedy Space Center in Florida, taking advantage of a 176-year planetary alignment that made the grand tour of all four giant outer planets possible.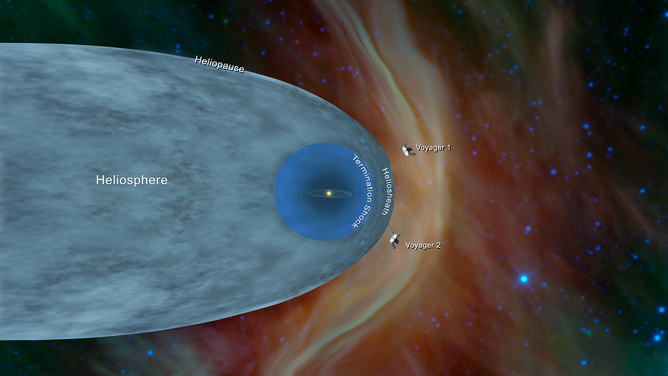 Prior to the communication sabbatical with NASA, Voyager 1 and 2 would send back multiple hours of data every day. The Voyager 2 spacecraft still has five instruments operating, each using only 4 watts of power per year.
Voyager 2 visited Uranus and Neptune before exiting the heliosphere in 2018-- the protective bubble of solar wind considered to be the boundary of our solar system.