Lonely Neptune's rings shine bright in James Webb Space Telescope images
Neptune's last visitor was NASA's Voyager 2 spacecraft in 1989. The James Webb Space Telescope just provided Neptune's first new headshots in decades.
Neptune, a cold, unexplored world farthest from the sun, is getting its time in the light after the James Webb Space Telescope captured new images of the planet for the first time in decades.
Last visited by NASA's Voyager 2 spacecraft in 1989, it was time for Neptune to get some new headshots. 
On Wednesday, at the International Astronautical Congress in Paris, the European Space Agency released half a dozen processed images of Neptune and its moons taken by the powerful telescope in July.
While Neptune's methane gas makes the planet appear blue in Hubble Space Telescope and Voyager 2 images, the James Webb Space Telescope uses infrared light that can't be seen by the human eye. 

JAMES WEBB SPACE TELESCOPE IMAGES WOW BY SHOWING STAR NURSERY, GALAXIES IN A COSMIC DANCE
To Webb, Neptune does not appear blue, but the ordinarily dark planet glows bright, and its high-altitude methane ice clouds are visible. The brightness toward the planet's equator "could be a visual signature of global atmospheric circulation that powers Neptune's winds and storms," according to the ESA. 
Even more striking is the clarity in which the JWST brings Neptune's rings into focus. The image above shows Neptune's narrow rings and even its fainter dust rings in infrared light.
According to the ESA, Neptune is 30 times farther from the Sun than Earth, and even high noon on the planet is dim.
Moons on display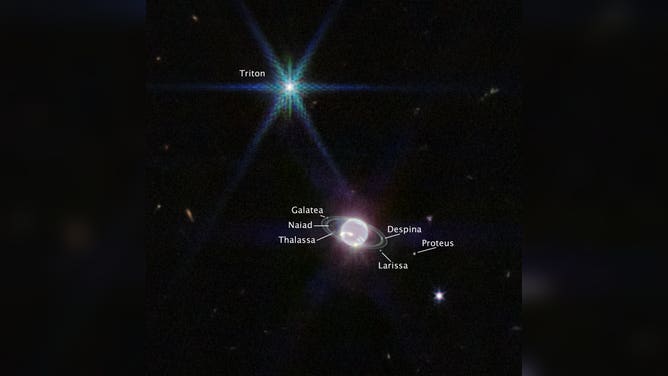 Webb was also able to capture all 14 of Neptune's known moons. 
The largest and brightest is Triton in the upper left of the image above. According to ESA, Triton appears much brighter than Neptune because it reflects about 70% of the sunlight that hits the moon.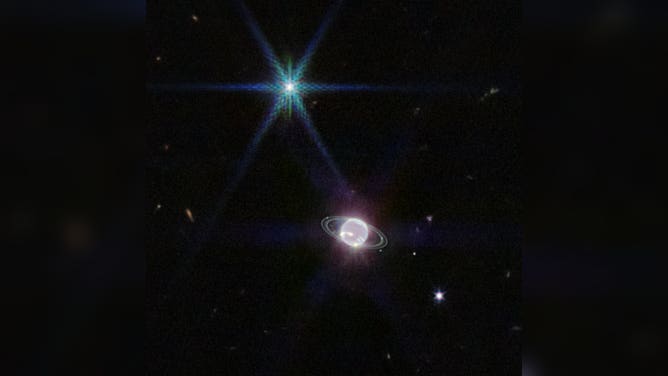 It's believed that Triton was once a Kuiper belt object that Neptune's gravity ensnared. The donut-shaped Kuiper belt lays just beyond Neptune's orbit and includes icy bodies like Pluto. 
HOW THE TELESCOPE BECAME OUR WINDOW INTO THE UNIVERSE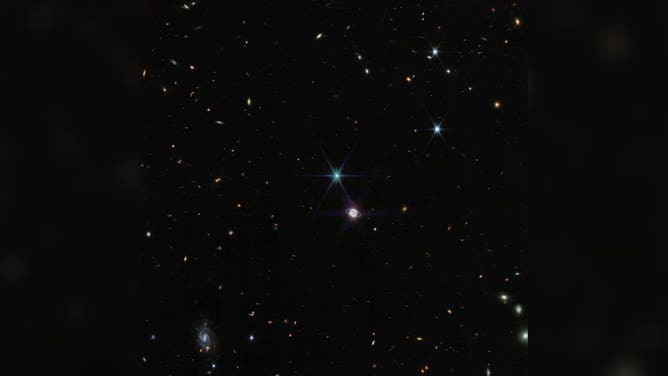 Another Near-Infrared Camera image from a wider angle shows Neptune in the center being photobombed by hundreds of galaxies.
According to the ESA, the bottom left of the image shows a barred spiral galaxy about 1,200 million light-years away. 
After launching on Christmas morning, 2021, the James Webb Space Telescope began its first scientific observations in July.