Hidden talent: NASA instrument designed to study mineral dust can map methane 'super emitters'
Using an imaging spectrometer EMIT is able to see hundreds of different wavelengths far beyond what the human eye can see. According to NASA, EMIT also has the "unplanned capability" of measuring methane "super-emitters."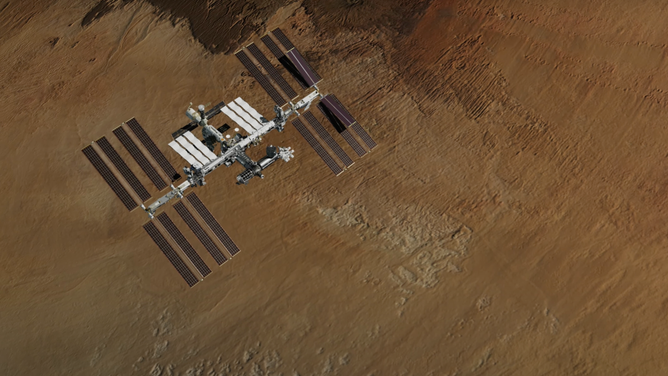 A NASA instrument observing Earth from outside the International Space Station has a new trick that scientists say was an "unexpected" bonus of the instrument initially designed to map mineral dust. 
In July, a SpaceX Cargo Dragon spacecraft launched to the International Space Station carrying 5,800 pounds of supplies and a new NASA instrument designed to study mineral dust emissions across Earth's arid regions. Using the station's robotic arm, the Earth Surface Dust Mineral Investigation, or EMIT, was installed outside the ISS and now orbits the Earth every 90 minutes along with the station. 
Researchers with NASA's Jet Propulsion Laboratory revealed this week that the EMIT instrument is working better than anticipated, offering a promising new way to map greenhouse gases in addition to mineral dust.

HOW TO WATCH FOX WEATHER
Using an imaging spectrometer, EMIT can see hundreds of different wavelengths far beyond what the human eye can see.
"Dust, depending on its color, either absorbs or reflects sunlight. Darker colors absorb, (and) lighter colors reflect, and that affects local temperature," NASA Chief Scientist and Senior Climate Advisor Kate Calvin told FOX Weather in July. 
EMIT Principal Investigator Robert Green shared on Tuesday that EMIT also has the "unplanned capability" of measuring methane "super-emitters." 
Methane is a greenhouse gas that contributes to global warming, and according to the Environmental Protection Agency, one-third of greenhouse gases are from human-related methane emissions. 
Green, with NASA's JPL, said the methane plumes were discovered shortly after EMIT was turned on, including a large plume in the Permian Basin, an oil and gas region in New Mexico.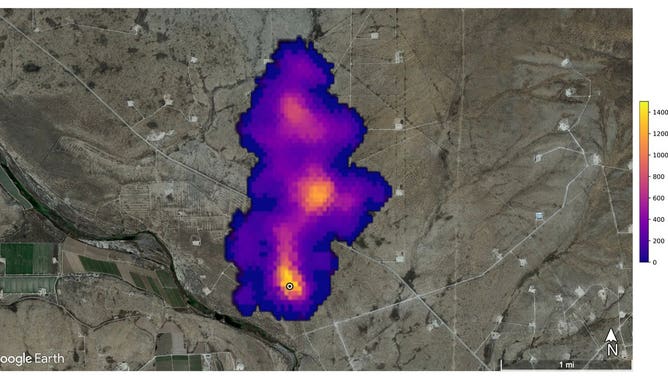 The yellow zone indicates a high methane concentration and fades to purple the lower the amount. 
"We did some initial estimates that this could be releasing methane on the order of 18 metric tons per hour with some uncertainty," Green said of the plume southeast of Carlsbad. 
EMIT found another area east of Hazar, Turkmenistan, with 12 separate methane plumes creating emissions for more than 20 miles. Initial estimates put the emissions at 50 metric tons of methane per hour. 
NASA JPL methane scientist Andrew Thorpe said the emissions are associated with visible hydrocarbon pipelines, whereas other sources nearby are from oil and gas infrastructure.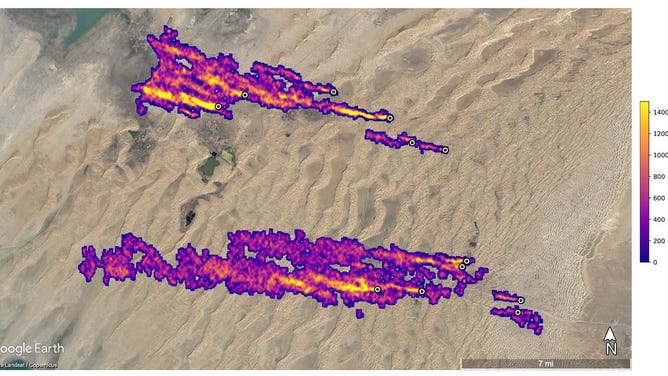 A major landfill south of Tehran, Iran, is creating the final example of methane observed by EMIT.
"This is methane coming from a landfill. It turns out the buried organic waste in landfills when it decomposes can be quite a significant source of methane," Green said, adding, "this is an area of active research understanding how much methane is entering our atmosphere from landfills."
According to NASA, the methane byproducts are billowing out about 8 metric tons per hour 3 miles from the city.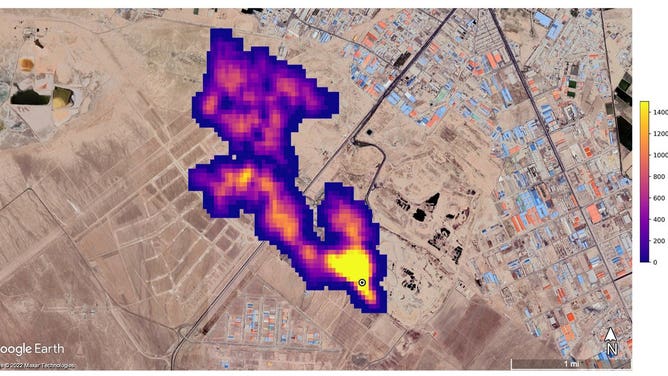 Thorpe said these examples are only "scratching the surface" of what EMIT can do to measure greenhouse gases.
"Because EMIT on board the International Space Station, which has an orbit of every 90 minutes, we'll have multiple observations of methane plumes over time, which is really important to better understand if emissions are persistent. That is to say, if we see them over and over, or if the emissions are intermittent," Thorpe said.
Moving forward, NASA plans to post EMIT data publicly on a new website, visualizing the methane plumes observed.
Green estimates that EMIT could map all of Earth's arid regions within one year, which is the prime mission of the instrument. The team hopes to release the first EMIT data set in December and, in the future, reduce the turnaround time to about a week after it's downloaded.