NASA gives SpaceX, Axiom all clear for first private mission to Space Station
Artemis-1 wet dress rehearsal will get range priority over Axiom launch likely pushing the launch to April 4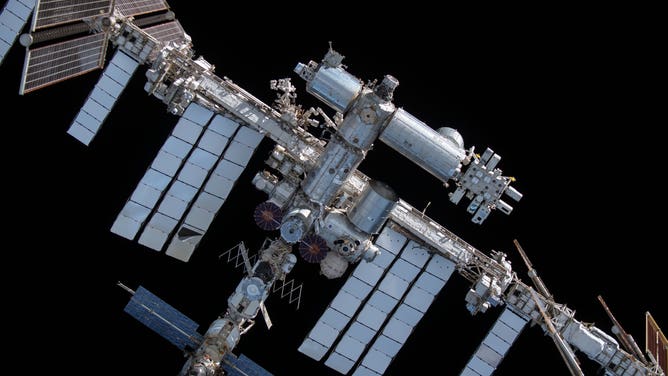 NASA officials have given Axiom Space the go-ahead to proceed with the launch of the first all-private mission to the International Space Station after a flight readiness review.
The private company is paying SpaceX to launch the Axiom Mission-1 (AM-1) with three businessmen who bought flights for an undisclosed amount of money, along with Axiom's vice president.
Axiom Space Vice President and former NASA astronaut Michael López-Alegría will command the mission and launch in the Crew Dragon Endeavour alongside customers Larry Connor, Eytan Stibbe and Mark Pathy.
Dragon Endeavour is scheduled to launch on April 3 at 1:13 p.m. on SpaceX's Falcon 9 rocket from Kennedy Space Center launchpad 39A, but that date is likely to change as NASA's mega moon rocket is on the launchpad next door ready for a countdown dress rehearsal on the same day.
NASA IS SEEKING A SECOND RIDE TO THE MOON FOR ASTRONAUTS IN ADDITION TO SPACEX
On Friday, managers with NASA, Axiom and SpaceX conducted a flight readiness review for AM-1 and the agency says teams are moving ahead with the April 3 launch, if the range is available.
NASA is also targeting April 3 to conduct a wet dress rehearsal of its moon rocket the Space Launch System for the Artemis 1 mission. It's the first test of the full countdown of the massive rocket system at the KSC Launchpad 39B.
Kathy Lueders, the head of NASA's Space Operations Mission Directorate, said Artemis 1 has the range priority, but there are still about 10 days ahead of work for both missions.
"I think from a planning perspective it made a lot of sense to us to just get the wet dress [rehearsal] mission done and [the Artemis team] being able to start their data and then letting us have the time of successive launch attempts for the Axiom-1 mission," Lueders said.
NASA is targeting June for the first SLS launch known as Artemis-1. 
NASA ISS deputy program manager Dana Weigel said there are several backup opportunities to launch for Axiom if it doesn't happen on April 3. 
Launches to the ISS are instantaneous windows.
If the Axiom-1 launch shifts to April 4 liftoff would happen at 12:50 p.m ET, on April 5 the launch time is 12:27 p.m.
Both Axiom and Artemis are heavily dependent on the weather conditions.
After launch, the Dragon will dock at the ISS about 24 hours later. The private astronauts will stay in space for eight days, conducting research on the orbiting laboratory and will be bringing their own experiments along with gourmet food to share.
López-Alegría's friend Chef José Andrés has developed some special space food for the private crew to bring up and enjoy with the astronauts living and working space. The astronauts will dine on Andrés' famous paella as well as some other Spanish cuisine. 
Wiegel said the visitors will get a tour of the station when they arrive to get familiar with their home for eight days.
"Once they get settled in, they'll start doing their core mission activities, which include a combination of human research, technology, demonstrations, outreach and some commercial activities," Wiegel said.
At the close of the visit, the Axiom-1 crew will get back in Dragon Endeavour, undock and then splashdown the following day off Florida's coast.
' A good problem to have'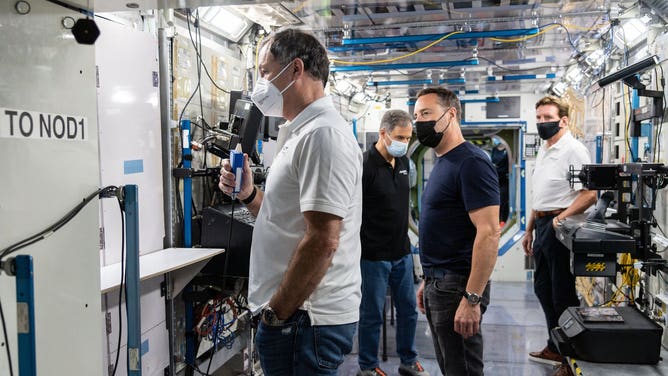 Traffic will be heavy to the space station over the next few weeks and months.  
A Russian spacecraft is scheduled to undock on March 30 bringing NASA Astronaut Mark Vande Hei and two Russian cosmonauts back to Earth. Vande Hei has been on the ISS for nearly a year, the most of any American astronaut.
NASA will then launch four astronauts with SpaceX on the Crew-4 mission from KSC to the space station on another long-duration mission. NASA astronauts Kjell Lindgren, Bob Hines and Jessica Watkins, and European Space Agency astronaut Samantha Cristoforetti are scheduled to launch on April 19.
"Obviously, there's a lot of communication going on now, and we're going to have to keep talking, but it's a good problem to have," Lueders said of the arriving and departing astronauts. 
Crew-4 will be launching in a new Dragon. It's tradition for the first crew to name the spacecraft and this week it was revealed the new spacecraft will be known as Freedom. SpaceX's other astronaut spacecraft are called Endeavour and Resilience and Endurance.
A separate group of astronauts, Crew-3, who arrived at the space station in November are set to return home in April or May.
In addition, Boeing is targeting May to launch its astronaut capsule, the CST-100 Starliner, without astronauts to the International Space Station on a second orbital test flight. The OFT-2 is the last test for Boeing before it can begin launching NASA astronauts under the agency's Commercial Crew Program. SpaceX conducted a similar test flight of Crew Dragon before it launched astronauts for the first time in 2020.