NASA is seeking a second ride to the moon for astronauts in addition to SpaceX
NASA previously selected SpaceX for the lunar landing system because it didn't have funding for two — now the agency says it wants a second option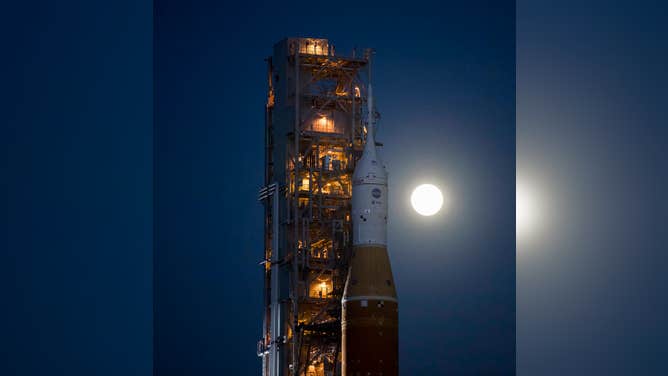 NASA will, once again, welcome companies – outside of SpaceX – to submit bids to shuttle NASA astronauts to and from the moon.
This new astronaut moon lander contract opportunity comes after a lengthy legal battle with Blue Origin over the first NASA human moon landing contract awarded to SpaceX's Starship.
NASA previously sought human moon landing contracts in 2019 and selected only SpaceX's Starship over its competitors Blue Origin, Boeing and Dynetics. In response, Jeff Bezos' company Blue Origin contested the bid selection, saying the agency was expected to select more than one moon lander. NASA argued Congress did not allocate enough funding for two human landing systems, so it only chose one with SpaceX's $2.9 billion bid.
The U.S. Court of Federal Claims denied Blue Origin's bid protest in November, allowing the agency to move forward working with Starship.
A WHOLE BUNCH OF AMERICAN-MADE ROBOTS ARE HEADED TO THE MOON
On Wednesday, NASA Administrator Bill Nelson said it had expanded SpaceX's human lunar landing system contract beyond the demonstration mission planned for no earlier than April 2025. Starship will conduct another astronaut moon landing after the historic return to the moon.
Nelson revealed that the agency is again seeking proposals from private companies to ferry astronauts between the moon after the first human landing in 50 years, under the Artemis-III mission.
"Additional landers will help increase the cadence of the missions at which we are able to land astronauts on the surface of the moon," Nelson said, adding NASA plans to land one group of astronauts on the lunar surface every year after 2025.
Nelson said he's spoken to members of Congress who have assured him, this time, they will fund more options for the Artemis moon program in the 2023 fiscal year budget. He is also confident President Joe Biden's budget will too. 
When asked about the cost of a second lander contract, Nelson said Biden would announce details next week with his budget, and the president supports the future Artemis missions requiring another lander. 
ELON MUSK SAYS STARSHIP WILL MAKE IT TO ORBIT THIS YEAR
SpaceX will be unable to compete for the second round as NASA plans to work within the company's existing contract. This is good news for Musk's competitors, Blue Origin and Dynetics.
A Blue Origin spokesperson said via email the company is ready to work with NASA again.
"Blue Origin is thrilled that NASA is creating competition by procuring a second human lunar landing system. By doing so, NASA will establish the critical redundancy and robustness needed for establishing permanent U.S. lunar presence," the statement read. "Blue Origin is ready to compete and remains deeply committed to the success of Artemis. We will continue to work with NASA to achieve the United States' goal to return to the Moon as soon as possible."
A Dynetics spokesperson said it also plans to consider another bid. 
"Dynetics, a wholly owned subsidiary of Leidos, is pleased to learn of NASA's plans to move quickly toward an opportunity to compete for the development of a sustainable human lander. As a current performer on NASA's Appendix N contract, we have made great progress in our lander design and risk reduction. We look forward to reviewing the upcoming RFP and the opportunity to participate in the Artemis campaign."
SpaceX has been developing its Starship spaceship in Boca Chica, Texas and is awaiting federal environmental clearance to conduct its first test flight to orbit later this year.
NASA is preparing to launch its first moon rocket, the Space Launch System and Orion spacecraft, on a test flight known as the Artemis-I this summer. Last week, the first fully stacked SLS was rolled to that launchpad at Kennedy Space Center ahead of the final test before it launches. 
The agency targets 2026-2027 for the second lunar landers to be ready.