Magnitude 6.9 earthquake reported off the coast of Alaska
The earthquake appears to be an aftershock of a magnitude 8.2 earthquake that shook the area in July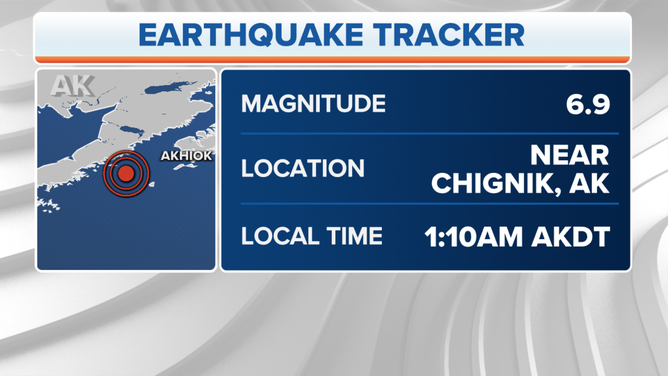 A powerful magnitude 6.9 earthquake was reported off the coast of Alaska early Monday morning.
The earthquake was reported just after 1 a.m. local time and was centered about 71 miles (114 km) east of Chignik, Alaska at a depth of about 43 miles (69 km).
The National Tsunami Warning Center said based on the earthquake information and historic tsunami records, the earthquake is not expected to have generated a tsunami.
There are no immediate reports of any damage or injuries.
This powerful earthquake appears to be an aftershock of a magnitude 8.2 earthquake that occurred on July 29, according to Matthew Cappucci, a meteorologist at FOX5 DC.
The United States Geological Survey said aftershocks can occur over a period of days, weeks, months or years.