Launch of first all-private mission to ISS shifts to early April
SpaceX, Axiom Space now targeting April 3 for Crew Dragon liftoff from Florida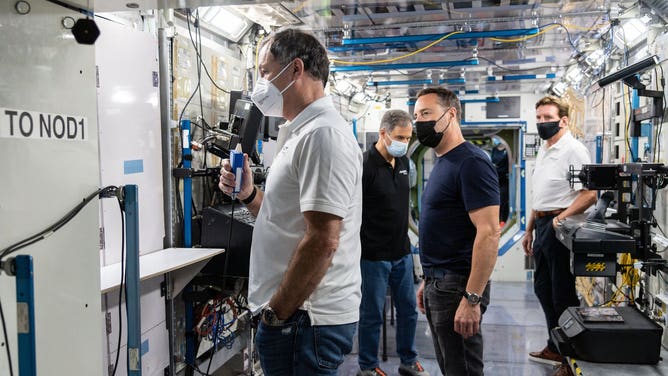 Astronauts living on the International Space Station will have to wait a little longer to welcome four visitors from the first all-private mission to the orbiting laboratory.
Houston-based Axiom Space has purchased several rides from SpaceX in the Crew Dragon spacecraft to the ISS. The first all-private mission is called Axiom-1. 
SpaceX and Axiom had been targeting March 30 to launch the soon-to-be private astronauts, but teams have pushed the liftoff to April 3 to allow more time for final spacecraft processing.
PHOTOS: NASA'S MASSIVE MOON ROCKET RISES OUT OF THICK FOG AT KENNEDY SPACE CENTER
Michael López-Alegría, Axiom vice president and former NASA astronaut, will act as Ax-1 mission commander; American entrepreneur Larry Connor is the Dragon pilot, and Canadian investor and philanthropist Mark Pathy and Israeli investor and philanthropist Eytan Stibbe are both mission specialists. 
When the launch does happen, the American, Israeli and Canadian crew will liftoff in a Falcon 9 rocket from Launchpad 39A at NASA's Kennedy Space Center. 
The Axiom-1 crew will dock at the ISS about 24 hours later and spend eight days working and living on the space station. At the mission's close, the Crew Dragon will undock and splashdown off Florida's coast. The private crew will spend 10 days in space. 
Earlier this month, Axiom Space officials spoke to reporters about how this first-of-its-kind mission will happen to the orbiting laboratory.
López-Alegría said the crew had spent a lot of time preparing to conduct research and work on the ISS, saying Ax-1 is not a vacation for Axiom's customers despite the recent space tourism boom through companies like Blue Origin and Virgin Galactic.
AXIOM-1 TO CONDUCT 'MEANINGFUL RESEARCH' IN SPACE AS FIRST ALL-PRIVATE MISSION TO ISS
"This mission is very different from what you may have heard of some of the recent, especially suborbital missions. We are not space tourists," he said. "My crewmates have worked very hard. I've been super impressed with their diligence and their commitment, and they, you know, they're busy people, and they've taken a lot of time out of their lives to focus on this … it's definitely not a vacation for them."
Axiom Space wrote in a blog post that the crew completed a "test drive" on Thursday in Dragon Endeavour, the spacecraft they will fly to and from the ISS. It marked the first time the Ax-1 crew put on their spacesuits and got into the spaceship at SpaceX's processing facility in Florida.