PHOTOS: NASA's massive moon rocket rises out of thick fog at Kennedy Space Center
Artemis-1 rocket completed its first journey to the launchpad on Thursday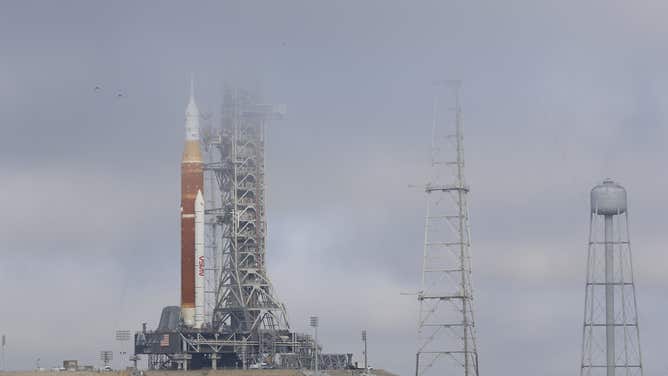 KENNEDY SPACE CENTER, Fla. – As the sun came up, thick fog blanketed the Kennedy Space Center launch complex where NASA's recently arrived Artemis-1 rocket stood at more than 320-feet tall. 
After a 10-hour-28-minute journey from the Vehicle Assembly Building, NASA's new moon rocket arrived at historic launchpad 39B in the early hours of Friday morning. 
A group of journalists and onlookers arrived about 8 a.m. to see the Space Launch System rocket and the Orion spacecraft at the launchpad for the first time, only to see heavy fog. 

NASA'S MEGA MOON ROCKET ROLLS 'SLOW AND STEADY' TO KENNEDY SPACE CENTER LAUNCHPAD
Fog is usually the thickest in the morning before sunrise because that is the coldest time of the day, and the air is cooled as much as possible to allow water vapor in the air condenses into droplets, forming fog.
As the sun came up, the air on the Space Coast began to warm, eventually becoming warmer than the dew point, and the fog began to evaporate. By 9 a.m., the fog had dissipated enough to reveal the mighty moon rocket on the launchpad.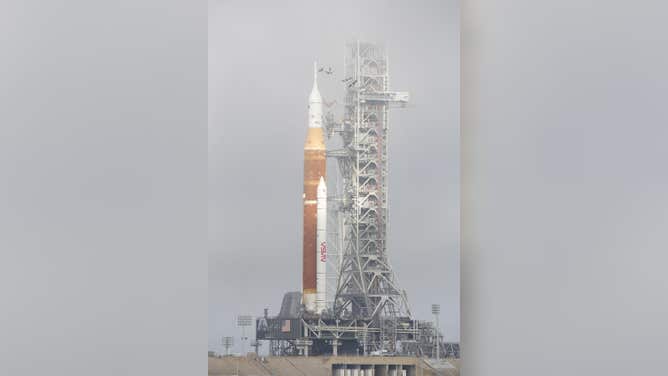 How long this evaporative process takes depends on how effectively the sun can heat the ground. If there are cloudy skies above the fog, it will take much longer for the gloomy conditions to improve.
DOES FOG REALLY 'BURN OFF'? DISPELLING THE MYTH OF COMBUSTIBLE CLOUDS
Here's the view of Artemis-1 about 9:30 a.m. from NASA.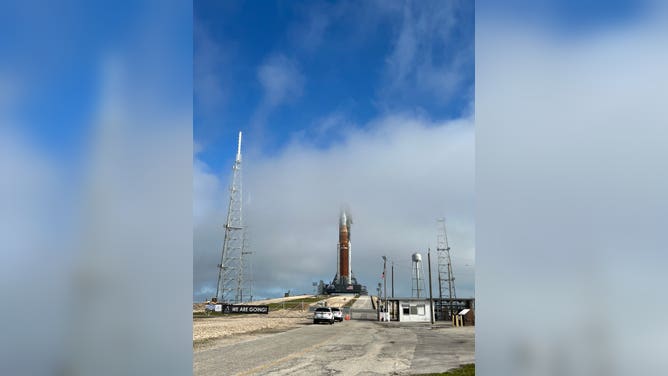 By 10 a.m., the sun was up, and the entire rocket was visible. 
Friday marks the first time the Artemis-1 rocket has been vertical on the launchpad.
Since the fall, the SLS rocket and Orion spacecraft have been stacked inside the VAB, awaiting the Artemis-1 mission launch. For the first time, the Artemis-1 vehicle made the 4-mile journey from the VAB to launchpad 39B on Thursday, marking one of the final trips on Earth for the 322-foot-tall moon rocket.
WATCH: 'FOG WATERFALL' GREETS SKIERS ATOP WASHINGTON'S CASCADES
Now that the rocket has arrived at the launch site, it will stay firmly on the ground until after a wet dress rehearsal. NASA managers are targeting early April for that rehearsal that will be a complete rundown of the countdown, including fueling the rocket. 
Later this year, Artemis-1 will launch on an uncrewed mission to send Orion around the moon and back. The next mission, Artemis-2, will include the first astronauts to orbit the moon in more than 50 years. 
FOX Weather Senior Digital Producer Aaron Barker contributed to this report.