Florida weather ideal for SpaceX Starlink launch this week
Launch scheduled for 6:20 p.m. ET on Dec. 1.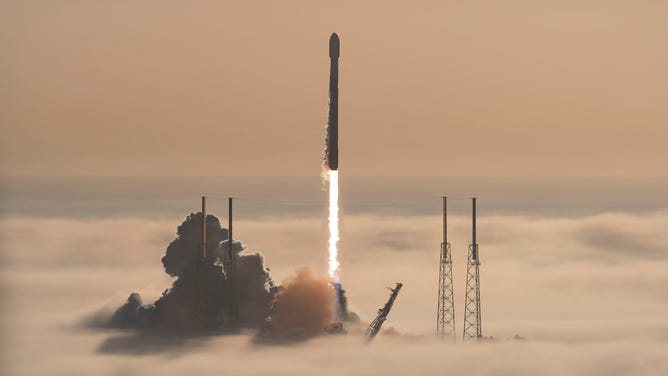 CAPE CANAVERAL, Fla. – SpaceX is preparing for its second Starlink satellite launch in November with a planned liftoff from Florida on Wednesday.
Elon Musk's company returned to regularly launching Starlink internet-beaming satellites on Nov. 13 after a months-long hiatus to upgrade its spacecraft fleet.
The next batch of satellites is scheduled to launch on a Falcon 9 rocket at 6:20 p.m. ET on Wednesday from Cape Canaveral Space Force Base Space Launch Complex 40. The launch window runs from 5:20 p.m. to 7:20 p.m., however, SpaceX usually targets the middle of the window for liftoff.
The weather on Florida's Space Coast currently indicates a pleasant evening for a rocket launch, according to forecasters with the 45th Weather Squadron.
"There will be light winds during the launch window and limited low-level moisture. According to the launch forecast, the primary concern for a Wednesday evening launch is a few cumulus clouds with the onshore flow."
The probability of favorable liftoff weather is greater than 90%.
If the launch delays 24 hours, weather conditions will be about the same Thursday evening.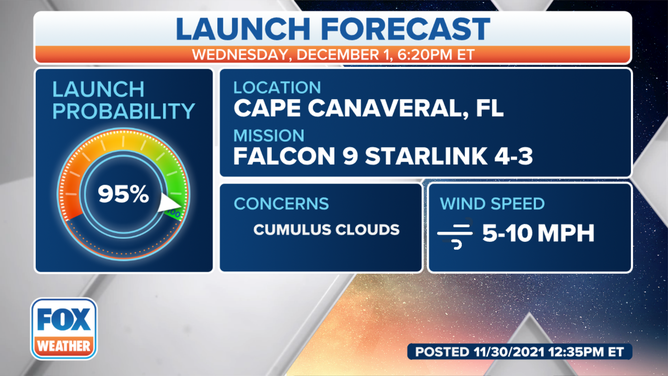 SpaceX plans to provide high-speed global internet with its constellation of, eventually, thousands of satellites. Already Starlink has service available for customers in the U.S., Canada, the United Kingdom, Germany, New Zealand, Austria, Belgium, Switzerland, France, the Netherlands, Denmark, Ireland, Chile and Poland.
Most recently, SpaceX opened pre-orders in India. However, the Indian government issued a statement saying SpaceX does not have the required licenses from the Indian Department of Telecommunications needed to offer its services there.
"Given the fact that Starlink is not a licensee, the public is advised not to subscribe to Starlink services being advertised," the statement read.
FOX Weather has reached out to SpaceX for comment on its operations in India.

Customers interested in this new space-based internet can sign up with a $500 deposit. The Starlink kits include a dish nicknamed "dishy" and can be set up using a smartphone.
According to the Starlink website, the dishes can withstand severe weather, including freezing temperatures, heat, hail, sleet, heavy rain, and gale-force winds. The website boasts that dishy "can even melt snow."
The upcoming launch will mark the 27th overall for SpaceX this year.