How astronauts celebrate Christmas 200 miles above Earth
Astronauts spend Christmas with their 'space family' sharing food and presents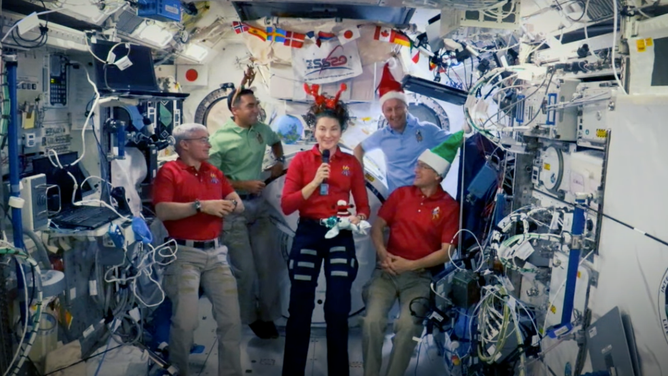 Seven astronauts live and work on the orbiting laboratory, but just because they are on the job doesn't mean they also don't get some downtime to celebrate the holidays.
The NASA, European and Russian astronauts will experience Christmas and New Year's away from their friends and families about 200 miles above Earth.
Supplies are sent to the space station via spaceship, and the most recent delivery arrived less than a week before Christmas. A SpaceX Cargo Dragon docked at the station Wednesday morning, less than 24 hours after launching from NASA's Kennedy Space Center in Florida. 
NASA astronauts Raja Chari and Tom Marshburn monitored the docking inside the ISS. Among the 6,500 pounds of supplies are some holiday treats and a few presents for the astronauts from Earth.
"Every year, we do our best to send up some, some presents to the crew. I won't get in front of Santa Claus and tell you what's going to be sent up, but we are going to have some gifts for the crew," NASA ISS program manager Joel Montalbano said ahead of the launch.
According to Montalbano, the crew will have a special Christmas dinner, including turkey, green beans, smoked fish and fruitcake. With astronauts of different nationalities, they often share food from their home countries, making it an international feast.
The astronauts have also been preparing for the holiday with their fellow crew.
NASA Astronaut Kayla Barron shared on Instagram a photo of the gifts she wrapped for her six Expedition 66 crewmates.
In a video posted by NASA, Barron and the other astronauts spoke about spending Christmas in space. 
"Even though we'll be up here this year, we have our space family, and I think we're going to create some of our own traditions," she said.
NASA Astronaut Mark Vande Hei said he'll be missing his mom's homemade double chocolate cookies. Marshburn said he would also be missing family food traditions in the form of a Christmas breakfast with his wife and daughter.
The astronauts will get the opportunity to call their families on Christmas. 
"It's a special Christmas being in space, being with friends, doing a special job," European Space Agency Astronaut Matthias Maurer said.
Maurer shared a Christmas greeting in multiple languages, including his native German.
The Expedition 66 crew will also ring in the New Year in space. 
From one side of the space station to the other; the astronauts can watch different countries begin 2022. 
"We get to see the sunrise many times a day, so thinking about the fact that people are waking up to a New Year each time we see that sunrise is going to be pretty cool," Chari said. 
For Russian Cosmonaut Anton Shkaplerov, this will be his fourth time beginning a New Year in space.