'Hog-tied' humpback whale anchored to crab pot, stuck swimming in circles in Alaskan waters
The juvenile was attached to a 300 pound crab pot with 450 feet of heavy duty line. Officials estimate the whale was tangled for at least three days.
A juvenile humpback whale caught in a life-threatening entanglement earlier this month in Alaskan waters was freed after the careful and tireless work of a large crew. 
Two people spotted the whale and reported it to the National Park Service after they noticed it was making "unusual sounds" and having trouble moving.
A crew went to investigate and saw the whale swimming in a tight, clockwise circle, seeming to be stuck in place. Further investigation revealed the whale was being anchored by line and buoys associated with a crab pot, NOAA Fisheries said. 
WATCH: WHALE KNOCKS MAN OFF SURFBOARD IN 'ONE-IN-A-MILLION' INCIDENT
'Hog-tied' humpback
The crab pot weighed 300 lbs. and had about 450 feet of heavy-duty line attached to it. 
"The whale had a loop of line through its mouth that led to a large, heavy glob of tangled lines at its tail. In effect, the whale was hog-tied, its body bent sharply to the side as it swam in a predictable clockwise circle each time it came up," the Glacier Bay National Park & Preserve explained. 
NPS was able to track the owner of the fishing gear and learned when it went missing, which meant the whale had already been entangled for at least three days, authorities estimated. 
With the entanglement deemed life-threatening, a massive crew was sent to work. 
WATCH: DOLPHINS LEAD LOST WHALE, CALF BACK TO MIGRATION ROUTE IN MOVING VIDEO

Planes and drones were deployed the morning of Oct. 11, and people worked from boats and back on shore to get the whale safely freed. 
Specialized tools were used to cut the line and buoys, including a knife on the end of a 25-foot carbon fiber pole and grappling hooks modified with razor-sharp knife blades.
Crews worked for hours throughout the day into the fading daylight.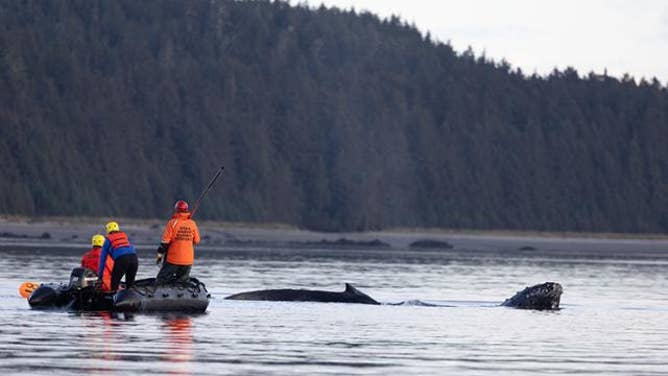 "The turning point came when we were able to cut the rope that ran through the whale's mouth and was wrapped around its tail," said Chris Gabriele, a whale biologist with Glacier Bay National Park and Preserve. 
And the whale was finally able to swim off. 
WATCH: BOATERS GET INCREDIBLE FRONT-ROW SEAT TO HUMPBACK FEEDING FRENZY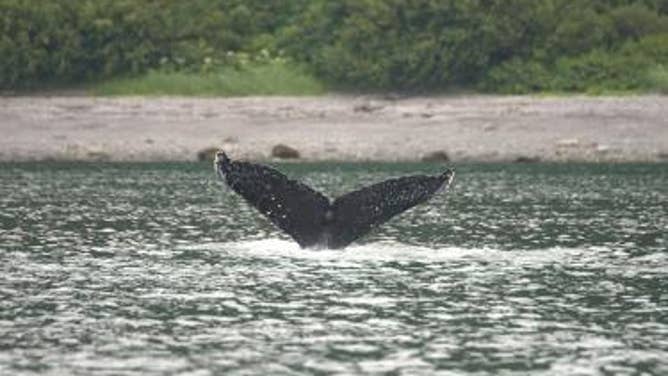 In the following days, using the rescue photos captured by the crew, authorities were able to identify the whale from their tracking bank. 
It's SEAK-5490, a juvenile whale about 3-4 years old, who was new to the Glacier Bay area this year. Its journey can be followed here.