Groups struggling to get help to Tonga after volcanic eruption, tsunami
Tsunami waves from the eruption reached the West Coast of the United States
Days after a powerful volcanic eruption and devastating tsunami, the island nation of Tonga is struggling to receive much-needed help.
The Pacific Island Knowledge 2 Action Resources organization, which serves the Pacific Islander communities in Utah, spoke with FOX 13 Salt Lake City and said several issues are preventing the group from providing aid.
OFFICIALS: TONGA VOLCANIC ERUPTION TRIGGERED 50-FOOT TSUNAMI WAVES, AT LEAST 3 DEAD
Susi Feltch-Malohifo'ou said the nation's banking system is internet-based, so sending money isn't currently an option.
The eruption destroyed several underwater cables that provide internet connections and provides ways to communicate domestically and internationally.
Feltch-Malohifo'ou told FOX 13 there are also no easy ways to get supplies from the United States to Tonga, and the nation has strict COVID-19 mandates in place.
WATCH: SHOCKWAVE FROM TONGA VOLCANIC ERUPTION CROSSES US NEARLY 6,000 MILES AWAY
"Water is the first priority right now and protecting the population from COVID," Feltch-Malohifo'ou told FOX 13. "We don't want to deal with two disasters at the same time."
The Pacific Islanders Club at Brigham Young University is also trying to coordinate how to get supplies to Tonga.
"We'll be able to fundraise and work together in order to create relief packets or send money," club vice president Sami Tuipulotu told FOX 13. "Things that we're able to do in order to help the foundations that we choose."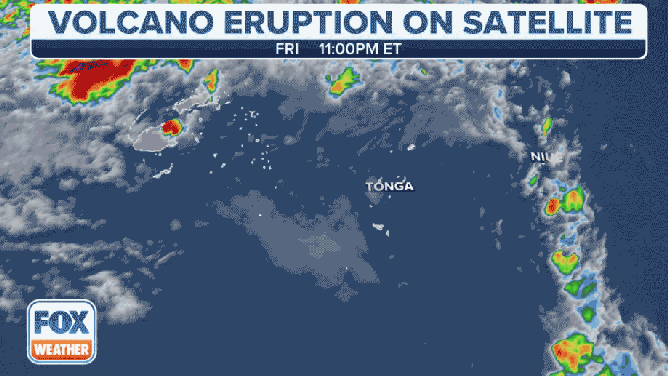 The Hunga-Tonga-Hunga-Ha'apai volcano exploded on Saturday night, sending a plume of ash more than 60,000 feet into the stratosphere and triggering tsunami waves that reached the West Coast of the United States.
Government officials in Tonga said tsunami waves nearly 50 feet high rushed inland, destroying everything in their path on the western coasts of the Tongatapu Islands, 'Eua and Ha'apai Islands.
At least three people have been killed as a result of the disaster. Several injuries have also been reported.