Australian family captures epic video of great white shark circling boat in 'once in a lifetime' experience
Louise Thomsen said the great white shark circled the boat for about 15 minutes before deciding to leave the area in case it took a bite out of one of the boat's motors
QUEENSLAND, Australia – An Australian family recorded an epic video of its "once in a lifetime" encounter with a great white shark off the Sunshine Coast in Queensland, Australia.
Louise Thomsen used her GoPro to capture a stunning video of the great white shark swimming just feet from the family's boat.
The family is heard in the video expressing their disbelief as the shark's fin cuts through the water before the camera is submerged for a full view of the feared ocean creature.
SHARK BITES MAN SITTING IN WATER AT FLORIDA BEACH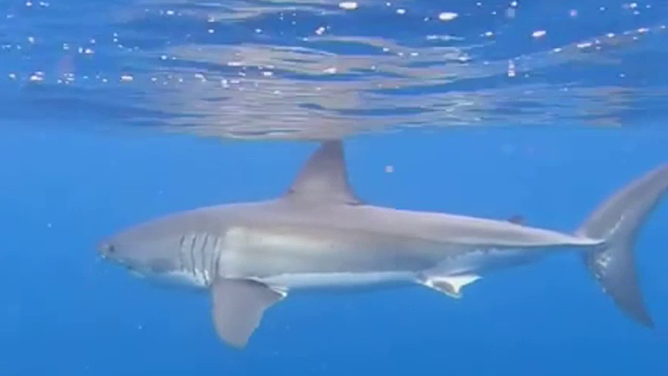 They are heard describing the shark as "beautiful" and the experience as "once in a lifetime."
"My husband and I have been fishing off Mooloolaba for over 23 years and have never seen a great white shark, let alone had one circling our boat," she told Storyful.
She said the great white shark circled the boat for about 15 minutes before deciding to leave the area in case it took a bite out of one of the boat's motors.
GROUNDBREAKING RESEARCH SHOWS GREAT WHITE SHARKS MAY CHANGE COLOR TO BETTER HUNT THEIR PREY
While the family was heading back to shore, Thomsen's daughter Mickayla gave a play-by-play of the encounter and laughed while calling the shark "very fat and very well-fed." She also called the experience "the stuff you see in Tom Cruise movies."
"It was giving us a nice side-eye, making sure we knew who was the boss, you know," she added. "It made sure of that."