Great ShakeOut 2021: Earthquake drill to help us prepare for the worst
Participants asked to "Drop! Cover! And Hold On!" at 10:21 a.m. local time
Nearly half of all Americans are vulnerable to potentially destructive earthquakes, and an international earthquake drill is helping everyone prepare for the worst.
Millions of people will be participating in the Great ShakeOut Drill Thursday morning at 10:21 a.m. local time, or at various times throughout the day.
When the time comes, the United States Geological Survey is asking everyone indoors to drop to the ground onto their hands and knees, crawl to a desk or table and hold onto it.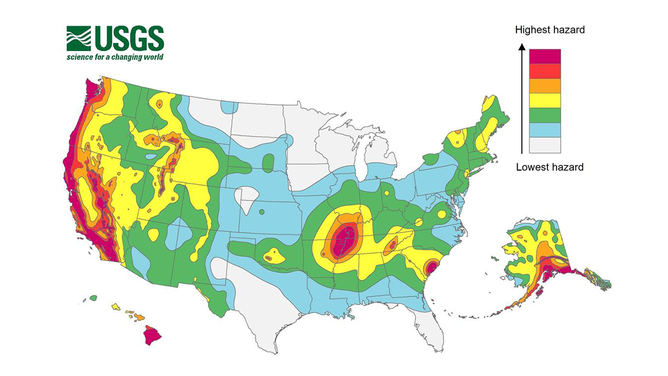 For those who aren't near a desk or other sturdy piece of furniture, move to an interior wall and protect your head and neck with your arms.
Avoid exterior walls, windows, tall furniture, large appliances, and items hanging from ceilings.
Take the time to look around the room. Could anything fall on you? The USGS said after noting where those items are, take the time after the drill to make sure they are secured, so you can stay safe if a real earthquake were to occur.
What about people who are outdoors or in vehicles?
The USGS said people outside should avoid power lines, trees, signs, buildings and other items that could fall.
Pull over to the side of the road if you're driving and set the parking brake. Never shelter under a bridge or overpass, under power lines or traffic signals and remain in your vehicle until the shaking stops.
The USGS said the original ShakeOut took place in 2008 and was based on the scenario of a major earthquake in southern California. The success of that first drill paved the way for other states and countries to participate.
Reelfoot Lake remembers the impact of a massive earthquake
A powerful magnitude 8.1 earthquake was reported near the border of Tennessee and western Kentucky along the Mississippi River in 1812. That earthquake formed Reelfoot Lake, a powerful reminder of what an earthquake can do to a region.
The Discovery Park of America has an area dedicated to showing people the power of an earthquake. It described how the lake was formed and people can even go inside a simulator to experience first-hand the power of an earthquake.
"The ground beneath you is going to shake," Jennifer Wildes, of Discovery Park of America, said. "It simulates nearly a six magnitude earthquake. The earthquakes that formed Reelfoot Lake were at about an eight. But you have the floor shaking beneath you, you have a 270-degree screen that wraps around you to help you feel even more immersed."
The Discovery Park of America is open year-round to all ages.