Florida's Python Challenge could win hunters up to $10,000
"Help us remove invasive Burmese pythons from the Everglades ecosystem for your chance to win prizes while helping native wildlife!" reads the entry form.
Snake hunters – both amateur and pro – get those snake hooks ready. Florida's annual Python Challenge begins Friday, and the grand prize is $10,000 for the participant who removes the most pythons by Aug. 13.
"Help us remove invasive Burmese pythons from the Everglades ecosystem for your chance to win prizes while helping native wildlife!" the entry form read.
PYTHON HUNTER WINS $10,000 AFTER TOP CAPTURE IN FLORIDA EVERGLADES CHALLENGE 2022
A record-breaking 231 of the invasive pythons were removed from the Everglades during the 2022 Florida Python Challenge. The big winner brought in 28 pythons. The person with the longest python – 11 feet – also took cash home. Nearly a thousand people from 32 states and two foreign countries participated.
The hunt to remove the serpents from public lands is a partnership between the Florida Fish and Wildlife Conservation Commission (FWC) and the South Florida Water Management District (SFWMD) and sponsors put up the prize money.
Grand prizes
Most pythons - $10,000
Second most pythons - $7,500
Prizes for novices (any non-professional), professionals and military members/veterans (nine total awards)
Most pythons - $2,500
Second most pythons - $1,500
Longest python - $1,000
The inaugural challenge took place in 2013. Almost 1,600 people registered, but they only harvested 68 snakes.
AMERICA'S RAREST SNAKE FOUND CHOKED TO DEATH ON GIANT CENTIPEDE IN FLORIDA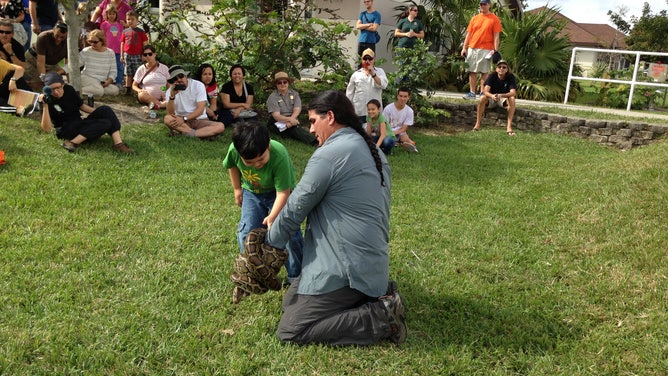 Pythons decimating Everglades wildlife
The SFWMD calls Burmese pythons one of the most harmful invasive species in the Everglades. The snakes prey on birds, native snakes, mammals and even alligators. 
The snakes thrive in South Florida's mild climate and have no natural predators, so they are multiplying. Females can lay 50-100 eggs at a time. The U.S. Geological Survey estimates that tens of thousands of pythons call the Everglades home.
"They're eating, basically, everything out of the Everglades," airboat tour owner, Humberto Torres told a FOX Nation crew while filming 'The Everglades: Preserving Paradise.' Before, you used to see a lot of mammals. We don't see them anymore. They're being eaten by the Burmese pythons, and they're just killing the entire habitat of the Everglades." 
A 2012 study found tremendous declines of mammals in the southern areas of Everglades National Park. The USGS reported that marsh rabbits, cottontail rabbits and foxes have nearly disappeared since 1997. 
OF COURSE THIS RECORD-BREAKING FLORIDA PYTHON'S LAST MEAL WAS A DEER
No license needed to hunt Burmese pythons
Burmese pythons are not protected in Florida except by anti-cruelty laws. That allows participants to hunt them without a license, but hunters must kill the reptiles in a humane manner. 
Anyone can participate for $25 after taking the required online training. Videos demonstrate how to capture a snake then knock it unconscious before pithing it. Even kids under 18 can hunt with a registered adult.
"Since day one, we have prioritized Everglades restoration by investing record funding for conservation projects and increasing resources for the removal of invasive Burmese pythons that harm this treasured ecosystem," said Governor Ron DeSantis in a statement. "The Python Challenge allows folks to participate firsthand in Everglades restoration efforts, and I look forward to seeing this year's results."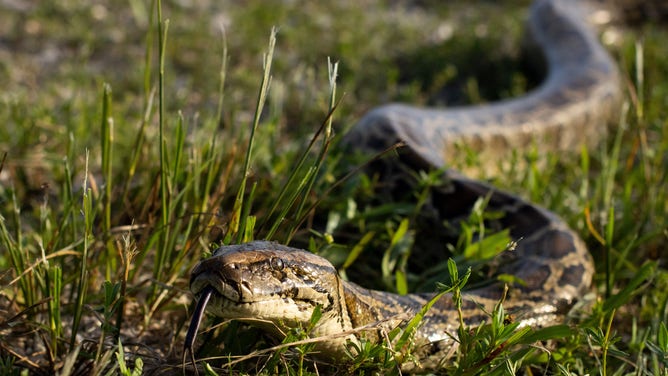 "In addition to python removal opportunities on 25 Commission-managed lands which are available year-round, pythons can be humanely killed on private lands at any time with landowner permission — no permit or hunting license required — and the FWC encourages people to remove and humanely kill pythons from private lands whenever possible," states the SFWMD.
All year long, the state pays "python removal agents" $13 to $18 an hour and $25 per foot of python over 4 feet. The pro can earn $200 for a verified active nest. Anyone can apply online.
The FWC claimed that more than 18,000 pythons have been reported as removed from the wild in the state. The SFWMD has been keeping track since May 2017. It would take 31 Empire State Buildings to equal the combined length of snakes. The weight of snakes eliminated is equivalent to almost 8 Ford F-150 pickups.