Sweet sustainability: Florida sugarcane farm committed to reducing waste
To date, Florida Crystals has grown 10,000 acres of the only organic raw sugarcane in the U.S.
BELLE GLADE, Fla. -- A Florida sugarcane farm is working to be the most sustainable in the United States.
Florida Crystals' commitment to large-scale renewable energy production began in the early 1990s. The company grows most of its sugarcane in Belle Glade, Florida, and went from about 4,000 acres in the 1960s to now 190,000.
To help in their sustainable farming and operations for decades to come, the company implements certain practices to better treat their land that would in turn save money. Some investments included technology, animals, planting other crops and using leftover biomass to convert it into electricity.
HOW TO WATCH FOX WEATHER ON YOUR TV
To date, they are growing 10,000 acres of the only organic raw sugarcane grown in the U.S.
"We have to be sustainable in every aspect of the process," said Diego Luzuriaga, Florida Crystals' vice president of research and development. "What do we do to be good stewards of the land, the water and all the resources that we have, and to be able to produce food while respecting everything that we have around us?"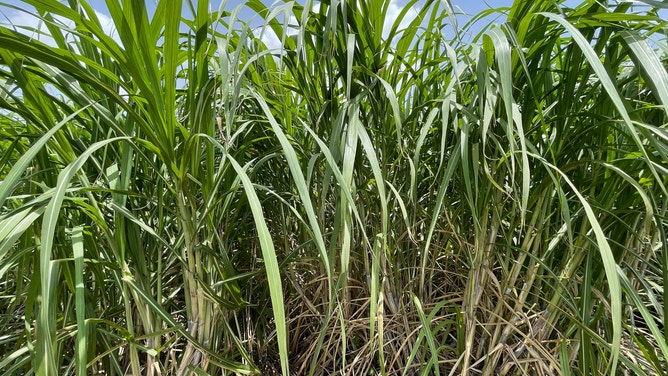 Sugarcane's sustainability
Sugarcane is a C4 plant, and there's only 3% of the species that are the most efficient in doing photosynthesis and capturing carbon.
"For us, being sustainable is critical. And we do it throughout the farm and the operation. Not only that, we're working with one of the more sustainable crops in the plant kingdom," Luzuriaga said.
Being a C4 plant means that during the plant's photosynthesis, there are four carbon compounds that are produced which helps with its energy-saving mechanisms.
Florida Crystals is using the power of the plant to physically process it. Part of the cane is able to convert into enough energy to power their sugar operations (milling, refining, packaging and distribution) as well as the equivalent of 60,000 Florida homes.
FARMERS FACE CLIMATE CHANGE BY RETHINKING THE AGE-OLD PROFESSION
"By squeezing that cane several times, we separate the juice and what's left over is what we call the bagasse. It's the fiber," Luzuriaga said.
The fibrous material left behind in the sugarcane harvesting process is a source of energy that goes into Florida Crystals' largest biomass cogeneration facility in the U.S.
"We produce electricity. That bagasse heats the steam, and the steam moves the turbines that produce electricity," Luzuriaga said.
That electricity is then used throughout their complex where they process the cane. While processing cane, Luzuriaga said they have almost zero waste, and whatever is left over is composted.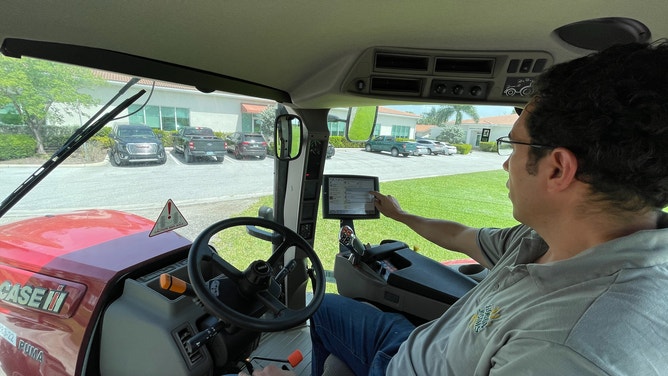 Water efficiency
Florida Crystals controls their own water canal system, mainly filled with rain and some from neighboring Lake Okeechobee. 
They operate nearly 3,000 miles of internal canals that they move water within inside their farm. If they have too much water, they can move some into some of the 7-to-10 acres of rice field. 
MAJORITY OF AMERICANS FAVOR US TAKING STEPS TO BE CARBON NEUTRAL BY 2050, PEW SURVEY FINDS
Luzuriaga explains how they irrigate the fields.
"We take the water, put it back into the canals and irrigate cane fields. And the way we do that is by moving the water table up or down. If we want to irrigate, we bring the canals up and the water slowly seeps to the roots, inside the field. We don't put it on top of the field, just below the surface of the field," he said.
Luzuriaga said they find it to be more efficient as they don't lose any water to evaporation by using a sprinkler system.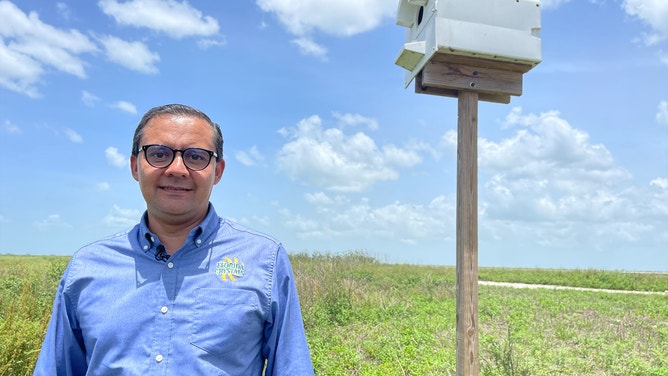 Animals' roles in sustainability
About eight years ago, Florida Crystals looked for alternatives to using rodenticides. So, they hired owls.
The company installed over 800 homes to welcome them to fly in. They say owls take on the night shift eating rats in the area. They've also installed perches to provide resting spots for birds like eagles to take on the day shift.
HERE ARE THE 7 GREENEST AND LEAST-GREEN STATES IN THE US
"A family of owls can eat about 2,000 rats per year, so they're really hungry birds," Luzuriaga said.
Florida Crystals hopes to host 2,000 homes for the owls going into the end of the year.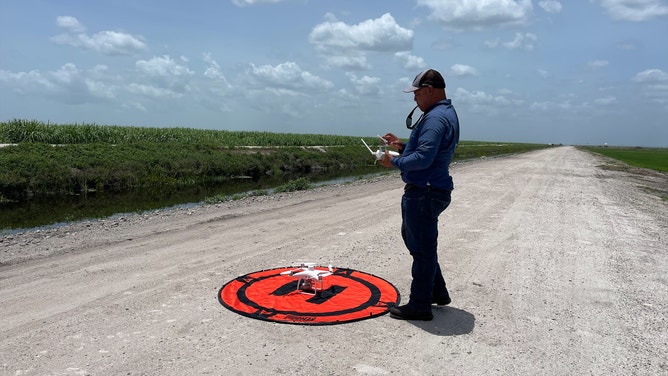 Technology's role in farming
The company surveys their land using drones to provide high-quality images as well as 3D and infrared views to see if any areas were skipped in planting. Drones also offer a better look at the crops' health and how they are growing.
Sugarcane is a tropical crop and cannot survive cooler weather events like a hard freeze the farm experienced earlier this year.
"By using technology like these drones, we go in, we fly out, and we look at the extent of the damage that has happened out there," Luzuriaga said. 
And by using different sensors in the cameras the company can see what parts of the fields are healthier than others and then decide which to harvest or leave in the little in the field longer.
Luzuriaga said they are also using precision agriculture with over 60% of their tractors using embedded technology that allows them to drive themselves with someone still onboard monitoring as the tractors drive across the fields.
LESS LAND, LABOR FUEL NEED FOR JOHN DEERE'S SELF-DRIVING TRACTOR
They have also been able to reduce fuel usage. 
"We've been able to use more efficiently on the tractors that we have in the farm by tracking all the information that comes from the tractors by something called telematics. It downloads all the information, the speed, fuel usage activities that they're doing where they're working idle time," Luzuriaga said.
In addition to those technologies, Florida Crystals also use satellite information, water level sensors and weather stations in the fields.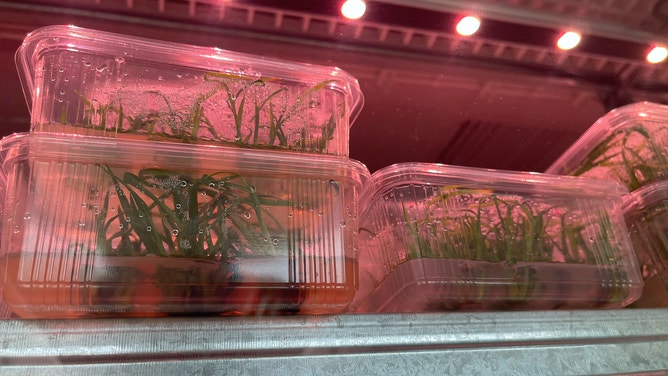 Productivity in growing more than sugarcane
Before the cane is planted in the soil, it starts in the lab.
Florida Crystals started their clean seed program where they produce all the seeds for their fields. They will test them to make sure they are disease-free, then micro propagating them without genetically modifying them.
"Varieties help us cope with weather, and as we have weather events that can happen," Luzuriaga said. "If for some reason one variety goes out, we lose it, or it goes down in production, we can quickly micro propagate here in this lab and bring back in 2 to 3 years; what it used to take 6 to 7 years to replace the variety on there in the field because of any weather issues or disease issues."
Luzuriaga said they can grow around 2.5 million plants in the lab before sending them off to a greenhouse and then into the field.
They've also learned to give the soil a chance to benefit from other vegetation in the field. Regenerative agriculture allows them to rotate their crops – one of the main ones being rice. Its field becomes a reservoir for water and a killer of bugs and weeds before planting the next round of cane.
Cover crops are also in the rotation to help feed soil and keep living roots year-round, trapping carbon.
Their products are sold across the United States to consumers at the grocery store and to large customers. Products are also sold in the Caribbean.
While there is a lot to learn on the farm, their initiatives don't stop here, and the exciting part of the company is finding that next idea to become even more sustainable at Florida Crystals.
CLICK HERE TO GET THE FOX WEATHER UPDATE PODCAST
Be sure to download the FOX Weather app for the latest weather conditions and warnings in your area. The free FOX Weather livestream is also available 24/7 on the website and app and on your favorite streaming platform. The FOX Weather Update podcast also provides weather information for the entire country