Florida prepares for influx of manatees suffering from red tide
The red tide is a harmful algal bloom that was spotted in the days after Hurricane Ian in Southwest Florida. It has gradually grown along Florida's west coast in 2023 and is producing toxins that are impacting people, marine life and birds.
TAMPA – A massive bloom of harmful algae that has been intensifying off the west coast of Florida is now believed to be impacting the manatee population at a crucial time when biologists were cautiously optimistic that the species was on the path of rounding the corner from record die-offs.
The red tide was initially observed in the days after Hurricane Ian impacted areas around Fort Myers and has grown throughout the winter.
The ongoing event has caused hundreds of fish to wash ashore on Southwest Florida beaches, and biologists revealed Wednesday that several manatees had been transported to recovery centers due to high toxin levels.
The Florida Fish and Wild Conservation Commission reports that levels of the organism, Karenia brevis, have reached concentrations of over 100,000 cells per liter – an amount that is ten times higher than the minimum level needed to impact wildlife and humans significantly.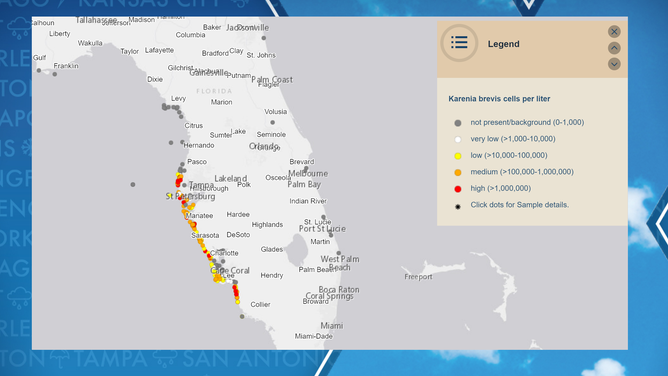 The U.S. Fish and Wildlife Service said it knows at least three recent cases of manatees being transported to SeaWorld's recovery center in Orlando from West Florida.
"Those are fairly easy to care for once they are rescued. However, they do take up a bit of the rehab capacity because even though we can get the neurotoxin out of their system fairly quickly in just a matter of a few days, they may take up an entire pool while that's happening," said Terri Calleson, the Florida manatee recovery lead for the USFWS.
SEE THE MASSIVE ALLIGATOR FOUND LURKING IN A SOUTH FLORIDA SWAMP
Several rescue centers around the state were already operating with the potential to quickly increase capacity due to an ongoing Unusual Mortality Event along the state's east coast due to an increase in malnourished sea cows needing treatment over the past two years.
Over the last several months, additive-containing pools have mainly gone unused due to the apparent tailing of amounts of ill animals, but biologists stand at the ready in case figures start to rise again.
"We can't put them back to the wild until the red tide cell counts subside for an extended period of time. So that's going to strap us a little bit on rehab capacity, and we're going to make some moves to try to address it," said Calleson.
FLORIDA'S MANATEE DEATH TOLL FALLS SHORT OF RECORD LEVELS BUT REMAINS ALARMINGLY HIGH
A record 1,100 deaths were reported from around the state in 2021, with a death toll of at least 800 in 2022.
So far this year, the FWC reports 140 manatees have died – a figure below the pace of the last two record years.
The agency estimates there are only around 7,500 manatees left in Sunshine State, and if boaters see an animal in distress, they should inform the agency about the sighting by calling 888-404-3922.