Heads up, spring breakers: First grizzly bear of 2022 spotted in Yellowstone
Seeing a bear may seem exciting but, park visitors should take precautions now that bears are coming out of hibernation
MAMMOTH HOT SPRINGS, Wy. – A pilot reported the first sighting of the year of a grizzly bear in Yellowstone National Park on Monday. It's a reminder that people who may have plans to spend spring break at America's oldest national park should be prepared for possible encounters with the animals.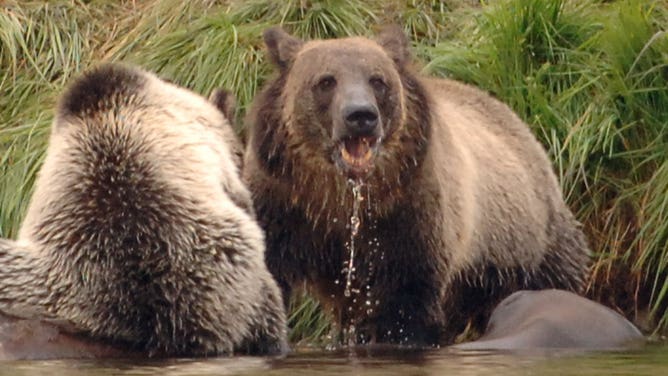 'YELLOWSTONE IS AN AMAZING PLACE': AMERICA'S OLDEST NATIONAL PARK CELEBRATES 150 YEARS
Last year's first bear sighting was on March 13.
Park officials said that males usually come out of hibernation in early March, after fasting for about five months. Males dining after hibernation can be aggressive. The most aggressive bears though are females with cubs, and they usually emerge in April and May.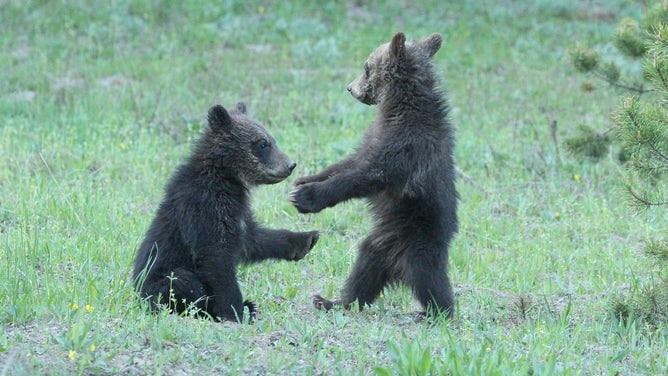 The first few meals, often consist of buffalo and elk that died over the winter. Park bear management biologists identify areas with a large population of carcasses and bear activity and often close them to tourists, starting Thursday, March 10th through May and June. Sometimes those closures can last as long as November. 
Officials can close entire areas or trails, can limit off-trail use and time-of-day use or impose a minimum group size of four people.
HOW TO WATCH FOX WEATHER ON YOUR TV
Grizzly bears are North American brown bears, according to the Encyclopedia Britannica. Grizzlies have been known to attack humans without provocation. There are fewer than 1,000 across the continental U.S. Adults grow up to 8 feet long and weigh about 900 pounds.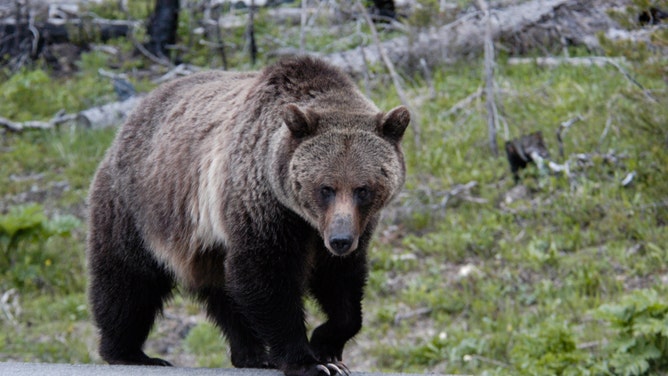 7 things you need to know in bear country
Spending your vacation in bear country requires precautions according to Yellowstone rangers. Here are some of their safety tips.
Carry bear spray, similar to pepper spray. You can purchase it in park stores and nearby convenience stores or rent it in the park. Park scientists say that the spray is non-lethal and 90% effective in stopping aggressive bear attacks. Spray it once the bear is 20-30 feet away. A bear just needs to walk through the sprayed cloud to feel the effects.
Hike or ski in groups of three or more, and stay on marked trails. Make noise. Avoid trails around dawn and dusk and overnight.
Don't feed bears. Store all food, grills and garbage in vehicles or bear-proof boxes.
Stay hidden. If the bear hasn't seen you, stay hidden and downwind of the animal.
Walk away. If the bear has seen you, slowly walk away, don't approach the bear. A bear on its hind legs is most likely trying to gather information about you. Clicking teeth, woofing, sticking out lips or slapping the ground is a warning.
Don't scare them. Do not startle a bear by making sudden movements or shouting which could trigger a chase. Bears can run up to 30 mph.
If a bear charges, hold your ground. If It doesn't veer away from you, hit the deck at the last second and protect your head. Be still until the bear no longer thinks you are a threat. Despite the myth, don't play dead initially or climb a tree.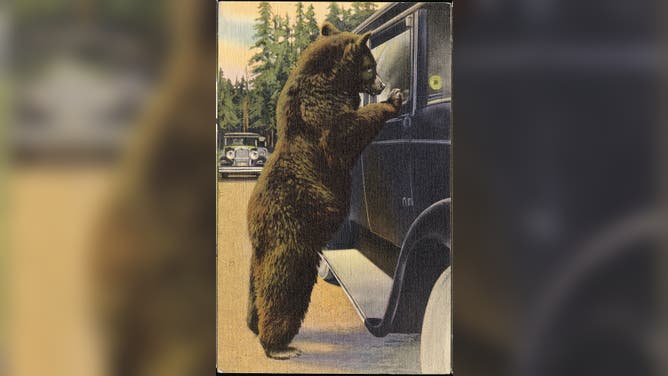 Bear attacks: By the numbers
Park officials have kept records since 1970. They show that people who play dead receive minor injuries 75% of the time. People who fight back are seriously injured 80% of the time.
On average, one visitor is attacked each year in Yellowstone. The park reported three deaths in separate attacks in 2011 and 2015. 
PAW-LICKIN' GOOD: THIS BEAR CAUGHT BREAKING AND ENTERING FOR KFC
By law, humans must stay 100 yards away from grizzly bears. Park officials said the safe way to get close to a bear is through binoculars or a telephoto lens.
Always report bear sightings and encounters to park rangers.