Walkman, bathtub and lamp posts: Divers pull 25,000 pounds of trash from Lake Tahoe
Dive teams with Clean Up The Lake collected 24,797 pieces of trash, bringing the total weight removed to 25,281 pounds
SOUTH LAKE TAHOE, Calif. – If you dropped your Blackberry while on Lake Tahoe back in 1999, it quite possibly was recovered by an organization taking significant steps to clear some of America's lakes of trash.
Dive teams with Clean Up The Lake embarked on an effort last May to recover submerged litter around all 72 miles of the lake's shoreline. They collected 24,797 pieces of trash, bringing the total weight removed to 25,281 pounds.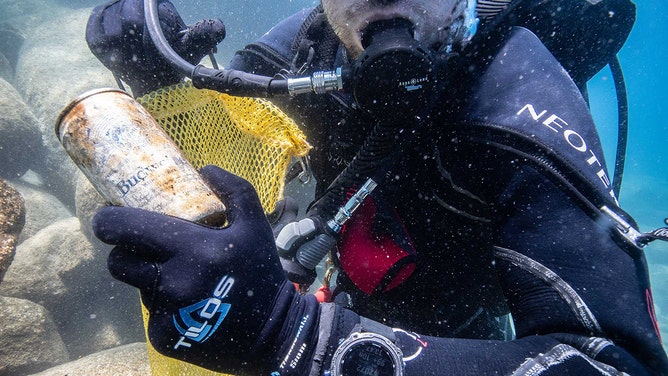 Colin West, a filmmaker turned environmentalist, set out to clean up Lake Tahoe by hand, literally. He founded Clean Up The Lake three years ago. Scuba divers pick trash off the bottom of the lake by hand: one bottle, one tire and one concrete chunk at a time. It's slow-going.  
"For a lot of people, what's out of sight is out of mind, but as a diver underneath the surface, you see the problem and want to do something about it," West said.
Despite the winter weather, COVID-19 and wildfire-related challenges, divers were in the water for 12 months to complete the effort.
SCUBA DIVERS CLEAN UP LAKE TAHOE THROUGH THE WINTER AFTER WILDFIRES DELAY PROGRESS
Divers recovered the typical plastic bottles, cans and other types of litter, but there were some oddities.
1980s Nikon film camera
Cordless house phone
1979 Incline Village property owner ID
Sony Walkman with a 'Tower of Power' tape inside
Pieces of claw-foot bathtub
Stapler
Vinyl records
Garden hose reel
Vintage Tahoe Yacht Club flag
"Quite a few different random things that you get a snapshot 20, 30, 40 years ago," West said. "It's funny finding some items every now and then."

Many people might initially hear this and immediately think people are disgusting, but West said, one has to look at the fact that everyone is a part of the problem. 
"A majority of this litter is accidental," he said. "It is existing there just because humans have had a presence in Lake Tahoe for the last 50 to 100 years."
Clean Up The Lake will collaborate with scientific institutions and environmental consultants to study the recovered litter to understand its impact on Lake Tahoe better.
HUMAN IMPACTS FROM CLIMATE CHANGE TO TRASH IMPACTING OCEANS, MARINE ANIMALS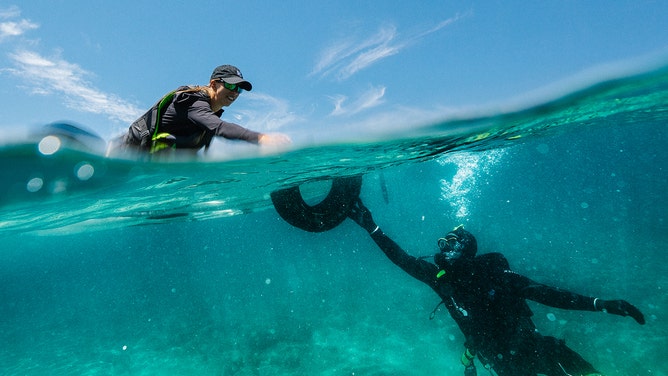 The group has even commissioned artists to create a sculpture using some items recovered from the lake to educate visitors about what lies beneath Tahoe's blue waters.
Aside from all the accomplishments, the group has just scratched the surface. This year, they want to expand their mission by performing clean-ups across four lakes. It will include intensive monitoring projects on Lake Tahoe and Donner Lake, a circumnavigated clean-up of Fallen Leaf Lake located within the Tahoe basin, and an expansion to the Mammoth Lakes region for the clean-up of June Lake. 
"I think all of us have to be a little bit more aware that just because we live on this beautiful planet, we have an impact on areas like Lake Tahoe." 
Despite current support, the group's projects require additional funding. You can donate here.