Great white shark found on New York beach
The body of the great white shark was estimated to be about 8 feet long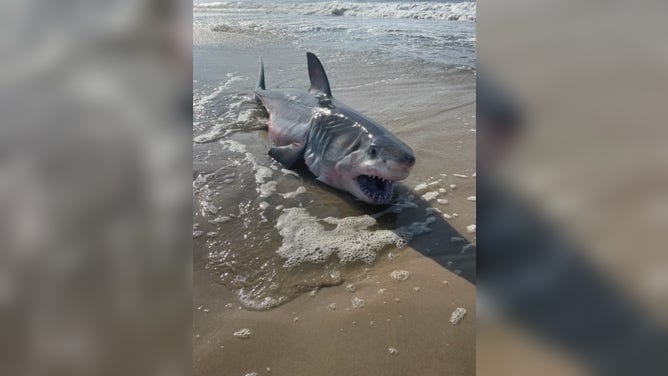 Another shark was spotted at a New York beach, but this time, it washed ashore.
On Wednesday morning, police were called to the Village of Quogue after a shark was lying in the sand.
SHARK SUMMER TIMELINE: SHARK ATTACKS, SIGHTINGS IN NEW YORK, NEW JERSEY PUT BEACHGOERS ON EDGE
The resident who called the police took the pictures and said that it was about 8 feet long.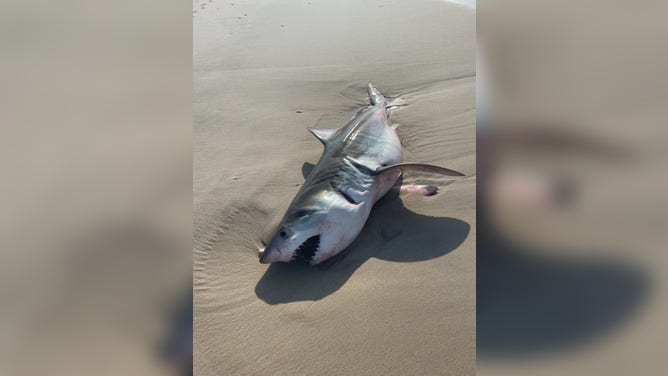 By the time police responded, the carcass of the great white shark already apparently washed back out into the ocean.
The Fork Natural History Museum Shark Research and Education Program is working with police to monitor the situation.
Swimmers and boaters are urged to call the police if the shark is spotted again.
New York and New Jersey beaches have experienced a string of shark sightings and attacks this summer since Memorial Day weekend. 
STAY SHARK SMART: WHAT TO KNOW WHEN YOU HEAD INTO THE WATER
Since the unofficial start of summer, beach officials have used drones, helicopters, and beach closures to prevent a potentially deadly shark encounter after at least five people have suffered shark bites.