3 firefighters injured, hundreds of structures threatened by wildfire in Northern California
The Rices Fire, in northeastern California, already scorched over 900 acres.
NEVADA COUNTY, Calif. – Three firefighters were injured, and one building has been destroyed by the Rices Fire burning in Northern California. The California Department of Forestry and Fire Protection (CAL FIRE) reports that the blaze has burned more than 900 acres and is only 10% contained.
So far, Nevada County officials say 340 people have evacuated from the fire that is believed to have started on Tuesday. 
Over 520 structures are threatened in the sparsely populated, agricultural community, Shannan Moon of the Nevada County Sheriff's Office told Fox Weather. About 1,100 more residents are under an evacuation warning which means be prepared to evacuate.
"The way the wind is pushing right now, it looks like it's more headed towards our communities in Yuba County, which is, just to the north and the west," said Moon. "So, there is heavy fire suppression in that area."
So far, crews have prevented the fire from crossing the Yuba River into Yuba County.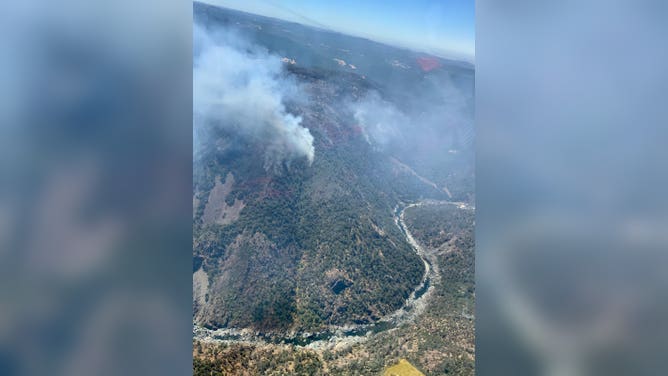 Moon said in a news conference that the county already evacuated more than 100 animals, which includes cats, dogs, horses and even alpacas. Many are being temporarily housed at the Nevada County Fairgrounds. 
Three firefighters were treated at hospitals and released for heat-related illness. 
"That continues to be one of our highest priorities, the safety of our folks out in these conditions in really very rigorous and treacherous terrain," said Brian Estes of CAL FIRE. "There are areas where it's just impossible to get people or heavy equipment from point A to point B, and we're having to use aviation assets in order to suppress the fire."
HOW THE LAY OF THE LAND AFFECTS WILDFIRE BEHAVIOR
Water and retardant dropping planes and helicopters were grounded until 11 a.m. Wednesday because of low visibility created by fog.
7 THINGS TO KNOW ABOUT FIRE RETARDANT
"That actually helped us in a way, because while you don't have the visibility to have the aircraft out that early, it allowed that fire to progress down to the river bottom without a fire intensity that we would see… through the rest of the day," explained Estes whose crews fight to stop the fire from crossing the Yuba River into Yuba County. "We are forecasted through today and through the rest of the week to see that same pattern --  topping out between 2 p.m. and 6 p.m. in the afternoon at 95 to 98 degrees, humidities 10 to 15% and our normal southwesterly winds."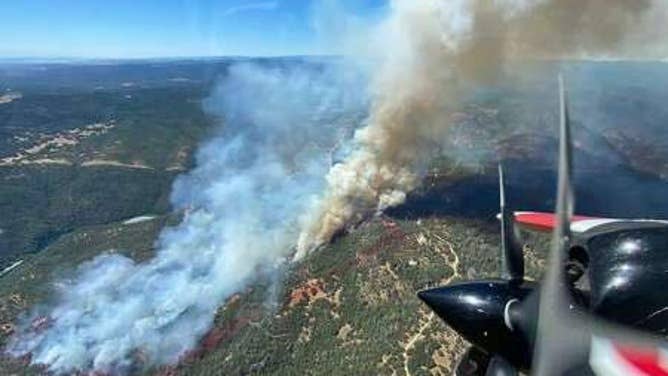 WHAT IS A TEMPERATURE INVERSION? 
Over 370 firefighters battle the blaze including hand crews and bulldozers working overnight and through the morning to build containment lines and put out hot spots.
"Our primary threat continues to be consistent; the threat to water infrastructure, PG&E high-tension power line infrastructure and those communities in Yuba County," said Estes.
The cause of the blaze is under investigation.