California shaken by a 4.8 earthquake near Deep Springs
Over 400 people reported feeling the quake said the USGS.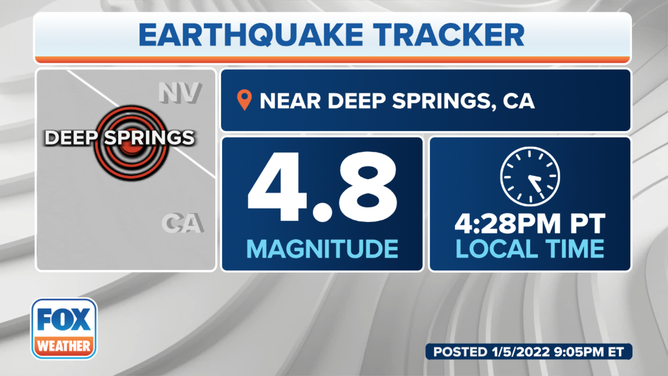 A 4.8 magnitude earthquake, 5.4 miles from Deep Springs, California shook the Nevada-California border region Wednesday afternoon.  The town is  in the high desert in the south central portion of the state said a United States Geological Survey (USGS) scientist.
The USGS ShakeMap shows moderate shaking around Deep Springs with light shaking felt as far away as Monmouth Lakes, Fresno and Death Valley National Park in California and the Nellis Air Force Base in Nevada. The USGS reported that over 400 people reported the shaking.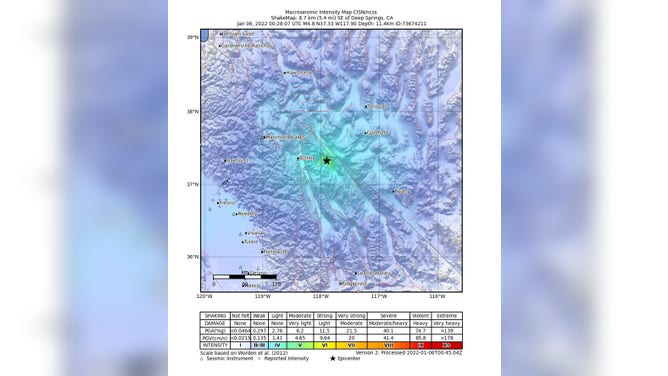 So far there are no reports of damage or injuries. And, NOAA has not issued a tsunami advisory.
There will be aftershocks most likely in the 3.0 magnitude range not far from the epicenter said the USGS.
The epicenter of the shallow quake was about seven miles deep.
EAST VS. WEST COAST: WHY EARTHQUAKES ARE FELT DIFFERENTLY ON EITHER SIDE OF THE US
A 4.6 quake struck off the California coast 46 miles south of Eureka a little over two hours later. NOAA issued no tsunami advisory.