Blue Origin space tourist Glen de Vries dies in plane crash
The 49-year-old businessman flew to space in October with William Shatner on Blue Origin's New Shepard rocket.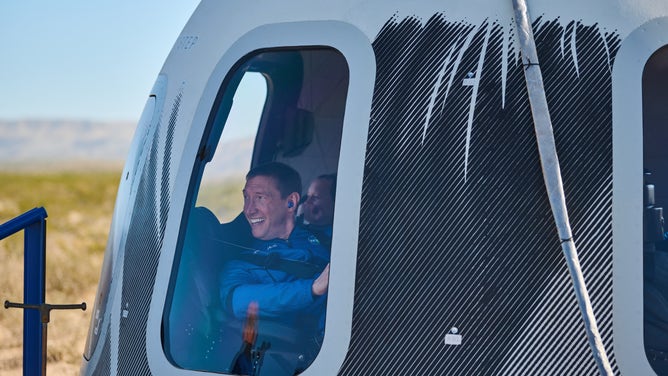 Less than a month after launching to the edge of space with Blue Origin, Glen de Vries, 49, died in a small plane crash Thursday in New Jersey.
De Vries, 49, and Thomas Fischer, 54, were the only people on board a single-engine Cessna 172 that crashed after taking off from the Essex County Airport, reports Fox 29 Philadelphia. Both men died in the crash.
Local law enforcement notified the Federal Aviation Administration that they had located a single-engine Cessna 172 that crashed in a wooded area near Lake Kemah, New Jersey, around 4 p.m. Friday. The FAA issued an Alert Notice before 3 p.m. to public safety agencies to alert them about the missing aircraft. The flight was en route to Sussex Airport when it crashed, according to the FAA.
On October 13, de Vries was one of four people on board Blue Origin's New Shepard rocket launched from West Texas on a 10-minute journey to space. Actor William Shatner and Blue Origin executive Audrey Powers were honorary guests on the flight. Dr. Chris Boshuizen and de Vries were the company's second passengers to fly as paying customers.
De Vries was a microbiologist and co-founded the tech company Medidata. He was the vice-chair at Dassault Systèmes. He was also a philanthropist and used his flight with Blue Origin to raise money for water.org, an organization dedicated to providing clean water and sanitization.
Blue Origin shared this statement Friday about de Vries' passing. 
"We are devastated to hear of the sudden passing of Glen de Vries. He brought so much life and energy to the entire Blue Origin team and to his fellow crewmates. His passion for aviation, his charitable work, and his dedication to his craft will long be revered and admired."
Blue Origin's founder Jeff Bezos also reacted to the news Friday, saying it was "such a tragic loss."
"Warm and full of life, Glen made us laugh and lit up the room. He was a visionary and an innovator – a true leader. Lauren and I are heartbroken and will remember the precious time we got to spend together," Bezos wrote in a tweet.
Bezos and his girlfriend Lauren Sanchez offered sympathies to de Vries' partner, Leah, and his family.

Dassault Systèmes, which now owns Medidata, issued a statement Friday about the death of de Vries.
"Our thoughts and support go out to Glen's family. Our deepest sympathy also goes out to our MEDIDATA team, which Glen co-founded. His tireless energy, empathy and pioneering spirit left their mark on everyone who knew him. We will truly miss Glen, but his dreams – which we share – live on: we will pursue progress in life sciences & healthcare as passionately as he did," a spokesperson said.
The 49-year-old was an amateur pilot in his spare time and even flew his private plane, a single-engine Diamond Star, to the West Texas launch site. 
According to FlightAware.com, de Vries' Diamond Star aircraft landed in Caldwell, New Jersey, at the Essex County Airport on Monday and did not make any trips after. 
The National Transportation Safety Board and the Federal Aviation Administration are investigating the crash.