After wind delay, SpaceX launches 53 more Starlink satellites from Florida
A SpaceX Falcon 9 launched at 1:51 p.m. from Cape Canaveral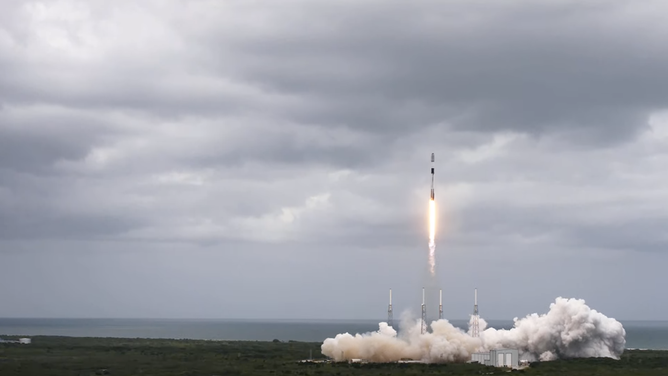 CAPE CANAVERAL, Fla. – Elon Musk's company SpaceX pushed its Starlink launch to Thursday afternoon because of weather, but after a delay was able to send up another round of internet-beaming satellites to expand Starlink coverage.
A Falcon 9 was poised for liftoff at 11:14 a.m. ET from Cape Canaveral Space Force Station Launch Complex 40. However, SpaceX tweeted that the company moved the launch to later in the day due to weather.
The Falcon 9 launched at 1:51 p.m. ET amid slightly windy conditions and into a cloudy Florida sky.
Re-watch the launch and landing below. 
Windy weather was likely the culprit behind the delay.
The National Weather Service has issued a Wind Advisory for the Brevard County barrier islands until 8 p.m. ET. Eastern winds between 20 and 25 mph with gusts up to 35 mph are possible. Forecasters with the NWS Melbourne office say it will be windy on the coast on Thursday with sustained 20 mph winds.
According to Surfline.com, winds near Kennedy Space Center are between 11 and 14 mph throughout the day.
After the launch, SpaceX landed the Falcon 9 booster on a doneship in the Atlantic Ocean about 8-minutes after liftoff. The landing marked the 12th for this particular rocket booster. SpaceX also plans to recover the rocket's fairings, or nose cone, to re-use that hardware again. 
The hardware will sail back to Port Canaveral and be readied for another launch.
Inside the rocket's nosecone were 53 Starlink satellites headed to low-Earth orbit. 
According to astronomer Jonathan McDowell, SpaceX has more than 1,683 operational satellites in low-Earth orbit but has launched more than 2,330. McDowell tracks objects in space, including the Starlink constellation, on his website.
SpaceX's last batch of Starlink satellites launched on March 19 from the same launchpad.
According to SpaceX engineer Kate Tice, the satellites now provide internet to more than 33 locations worldwide. Most recently, Starlink began offering service in the Caribbean.
Outside providing a space-based internet, SpaceX has been busy launching the first private human mission to the International Space Station and preparing to launch its fourth long-duration astronaut mission for NASA.
However, weather at sea around Florida's peninsula has created a domino effect of delays for human spaceflight.