Black bear spotted at Disney World's Magic Kingdom forcing more than a dozen rides to temporarily close
Several of Magic Kingdom's popular rides were listed as "temporarily closed" in the My Disney Experience app, including Big Thunder Mountain Railroad, Haunted Mansion, and Pirates of the Caribbean
LAKE BUENA VISTA, Fla. - Update 2:30 p.m. | An adult, female black bear that found its way into Walt Disney World's Magic Kingdom theme park has been safely captured, according to the Florida Fish and Wildlife Conservation Commission. No other details were immediately released.
Original report below
A black bear was reportedly stuck in a tree at Walt Disney World's Magic Kingdom in Florida on Monday morning, forcing more than a dozen attractions and rides to temporarily close.
According to a report from FOX 35 Orlando, the Florida Fish and Wildlife Conservation Commission (FWC) said that it was aware of a black bear reported in a tree at the Magic Kingdom and that biologists with its bear management program and law enforcement officers were on scene.
THE BEAR NECESSITIES OF LIVING SAFELY WITH FLORIDA BLACK BEARS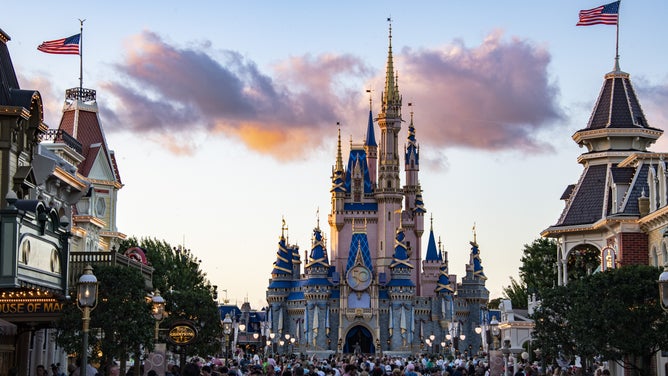 "In most cases, it is best for bears to be given space and to move along on their own, but given this situation, staff are working on capturing and relocating the bear," the FWC said in a statement to FOX 35 Orlando.
Details on how the bear made it on to Disney's property, where specifically it was spotted within Magic Kingdom, or the bear's condition were not immediately known.
Most of the areas that were temporarily closed were on the west side of the park, including within Disney's Adventureland, Frontierland, and Liberty Square.
"We are working with the Florida Fish & Wildlife Conservation Commission and have made the decision to reopen Frontierland, Liberty Square and Adventureland at Magic Kingdom Park," Walt Disney World said in a statement. Disney then referred to FWC's statement.
While it's not unusual for an attraction or ride to go down unexpectedly throughout the day – whether for maintenance, weather, refurbishment or some other reason – it is unusual for so many attractions to be closed at once – and shortly after the theme park opened for the day.
VIDEO: VISITORS SEEK SHELTER AFTER FUNNEL CLOUD SPOTTED FROM DISNEY WORLD
Several attractions and rides at Magic Kingdom were closed initially, most located within Disney's Adventureland, Frontierland, and Liberty Square, according to the "My Disney Experience" app. Shortly before 1 p.m. some previously closed attractions or rides appeared to have opened and were no longer listed as temporarily closed.
Magic Kingdom's hours are 9 a.m. to 10 p.m., according to Disney's website.