It's illegal to wrestle bears in Missouri, police warn after multiple sightings
Bear wrestling is illegal in Missouri per statute 578.176. If found guilty, the offense of bear wrestling is a class A misdemeanor.
SALEM, Mo. – The next time you think about taking on a bear in the squared circle, police in Missouri are reminding you that it's illegal to wrestle them.
The Salem Police Department said they received phone calls Tuesday morning about a black bear near Rolla Road. The town is located about 130 miles northeast of Springfield, Missouri.
Officers said they closely monitored the situation, and the bear was last seen heading north back out of town.
"If you see or encounter a bear, please notify the police department," the department said in a Facebook post. "Do not try and feed or interact with the bear."
WATCH: CURIOUS BLACK BEAR BREAKS INTO TRUCK IN COLORADO, STEALS BAG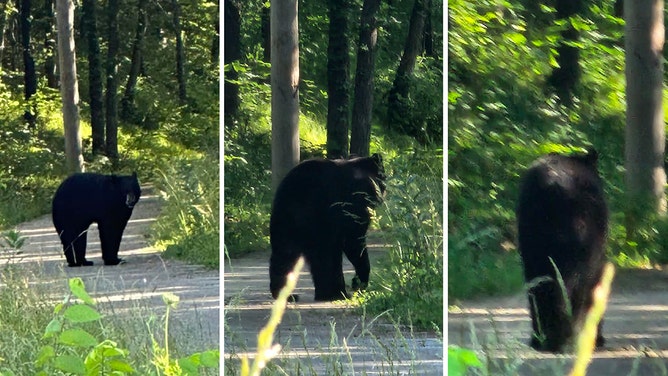 While a bear sighting might be common, what was odd followed when authorities asked residents not to wrestle the bear if they came in contact with it – because it is illegal.
You read that right: bear wrestling is illegal in Missouri per statute 578.176. The law was adopted in 1996. If found guilty, the offense of bear wrestling is a class A misdemeanor.
A person commits the offense of bear wrestling if he or she does the following:
Wrestles a bear
Permits bear wrestling to be done on any premises under his or her charge or control
Promotes, conducts, or stages bear wrestling
Advertises bear wrestling
Collects any admission fee for bear wrestling
Purchases, sells, or possesses a bear that he or she knows will be used for bear wrestling
Trains a bear for bear wrestling
Subjects a bear to surgical alteration for bear wrestling
'Serious history' behind bear wrestling bans
Missouri is not only state to outlaw bear wrestling. Alabama did have a law prohibiting it, but that law was repealed as obsolete in 2015. They now have animal cruelty laws that cover this area.
According to PETA, bans against archaic acts are on the books in at least 18 states, and it would likely be prohibited by general cruelty-to-animals laws in the rest of the country.
"Although bear wrestling may sound unbelievably ridiculous, it has a serious history," Catie Cryar, manager of media relations for PETA, told FOX Weather. "Exploiters removed bears' teeth and claws and forced them into brawls with boozed-up bozos in a practice so cruel that legislators had to ban it."
Cryar adds that wild animals should be left alone.
PETA advises anyone concerned about the presence of bears in residential areas to encourage the animals to move on by keeping garbage cans tightly sealed and out of reach.