Astra launches from Florida but fails to deploy tiny NASA satellites in space
Astra launched Rocket 3.3 from Launch Complex 46.
CAPE CANAVERAL, Fla. – Astra, the newcomer to the Space Coast, launched Thursday on its maiden voyage from Florida. However, it did not achieve its mission of delivering four small spacecraft into orbit.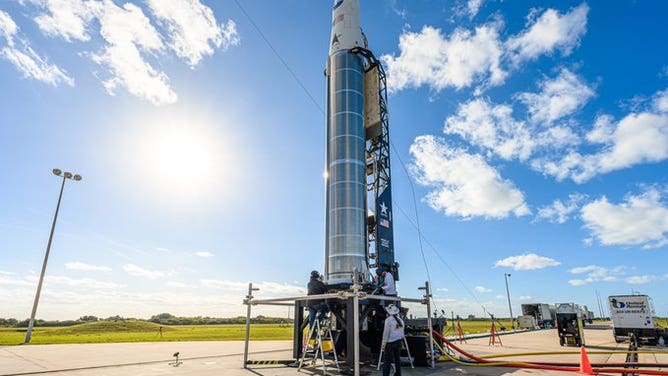 Astra's Rocket 3.3 was the first launch under NASA's Venture Class Launch Services Demonstration 2 contract. The rocket launched at 3 p.m. from Cape Canaveral Space Force Base carrying CubeSats as part of the Educational Launch of Nanosatellites (ELaNa) mission. Three of the spacecraft were from U.S. universities, and a fourth CubeSat is a demonstration mission for Johnson Space Center.
After liftoff, views from the rocket's second stage showed it spinning out of control in space. An Astra representative confirmed an issue during spaceflight prevented the CubeSats from deploying.
"We are deeply sorry to our customers NASA, University of Alabama, University of New Mexico and UC Berkeley," the company said in a statement.
Astra has previously launched from Kodiak, Alaska, but this marked the first liftoff from Florida for the company. 
Live views from the rocket after launch showed the second stage in space but seconds later, the camera view was rapidly tumbling in space. The camera feed was cut off soon after.
"Missions like these are critical for developing new launch vehicles in this growing commercial sector," Hamilton Fernandez, mission manager with NASA's Launch Services Program, said. "The Astra team demonstrated dedication to supporting NASA's mission. The lessons learned will benefit them and the agency going forward."
Over the weekend, the space startup attempted to launch its Rocket 3 from Cape Canaveral Space Force Base Launch Complex 46 for the first time from Florida. However, an issue with a radar system on the Eastern Range prompted a delay. According to Astra, another attempt on Monday was aborted at T minus Zero due to a telemetry issue.
GEOMAGNETIC STORM CAUSES DESTRUCTION OF 40 NEW STARLINK SATELLITES
Re-watch the launch below in the video from NASAspaceflight.com.
Launch Weather officers with the Space Force's 45th Weather Squadron predicted a pleasant forecast is in the lineup for Astra on Thursday. According to the forecast, there was less than a 10% chance of weather leading to a scrub.
Florida's Space Coast didn't disappoint, offering clear blue sky as Rocket 3 moved up and away from the launch pad.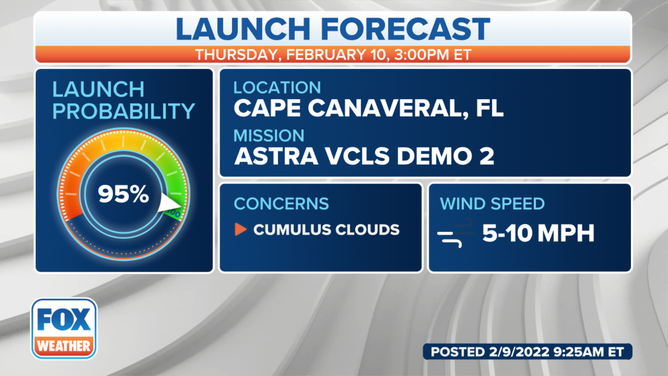 NASA TARGETING SPRINGTIME LAUNCH FOR ARTEMIS-1 MOON ROCKET
This is the first launch from Launch Complex 46 since 2019 when NASA tested its Orion spacecraft abort system. Before that, it was used in 2017 for a U.S. Air Force Space Command mission. 
Originally constructed as a trident missile launch site by the U.S. Navy in the late 1980s, Launch Complex 46 went unused starting in 1999 for over a decade before refurbishment started and was complete in 2017, according to the U.S. Space Force. Florida's spaceport authority, Space Florida, now manages and leases the launch complex. 
The launch facility can support multiple rockets from different companies.