Smoke from Yosemite wildfire extends over Bay Area creating air quality concerns
Washburn Fire burning in Yosemite National Park grows to 2,340 acres
YOSEMITE NATIONAL PARK, Calif. – The uncontrolled wildfire burning in Yosemite National Park is sending smoke into surrounding areas in Northern California and continues to threaten the giant sequoias the park is known for, some of which are thousands of years old.
Yosemite National Park officials say they believe the blaze started on July 7 and is burning near the Washburn Trail in Mariposa Grove, an area protected by legislation signed by President Abraham Lincoln in 1864. Because of where the fire began, it's being called the Washburn Fire, which has grown to 2,340 acres with zero containment. 
According to Yosemite Fire and Aviation Management, resources from National Park Fire as well as state and local are being used to fight the blaze. 
SHEEP FIRE? PIPELINE FIRE? HERE IS HOW WILDFIRES GET THEIR NAMES
More than 500 personnel are working the Washburn Fire, including efforts to save Yosemite's sequoia trees. A sprinkler system has been set up within the Mariposa Grove to protect more than 500 sequoias threaded by the fire.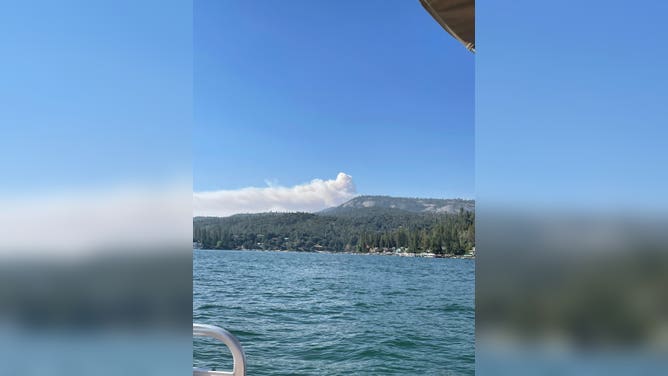 FOX 26 Fresno reports crews on Monday will focus on defending Wawona Point and the community of Wawona. Officials said the fire had come close to the community on Monday but had not entered any structures. 
Those outside the park could see smoke from the Washburn Fire on Sunday, including from Bass Lake, about two hours south of Yosemite. 
On Monday, smoke from the fire will shift over northern and eastern parts of the San Francisco Bay Area, according to the National Weather Service Bay Area office.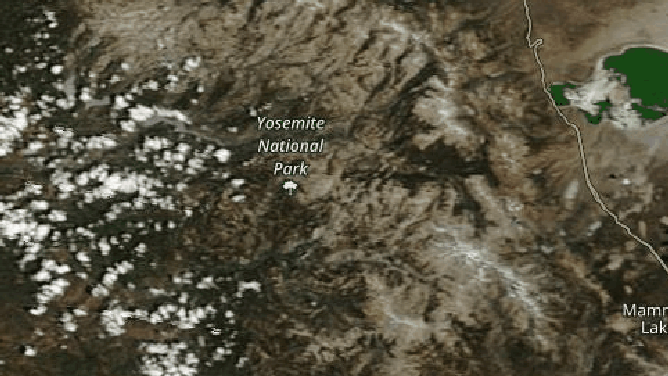 The image loop above created using NASA's Worldview shows NOAA and NASA satellite observations of the smoke beginning on July 7 and moving west outside of Yosemite through Monday. The good news is that the smoke should stay aloft at higher altitudes.
An unhealthy air quality alert for sensitive groups is in place Monday for part of the Sierra Nevada Mountains, including the national park. Surrounding the park, the air quality is moderate.
CALFIRE camera views from Kregot Peak in Pittsburg, California, show smokey conditions over the area where air quality levels are of moderate concern, according to AirNow.gov. This means the air quality is acceptable, but those unusually sensitive to air pollution may be at risk.
THE AIR QUALITY INDEX EXPLAINED
"Smoke from the fire will continue to impact Yosemite National Park for the next few days due to southerly transport winds," fire officials said in the latest update.
Warm temperatures and a dry weather pattern are forecast to continue through the week, which could hinder firefighting efforts. Overnight into Monday, wildfire officials said the Washburn Fire remained active and is expected to grow.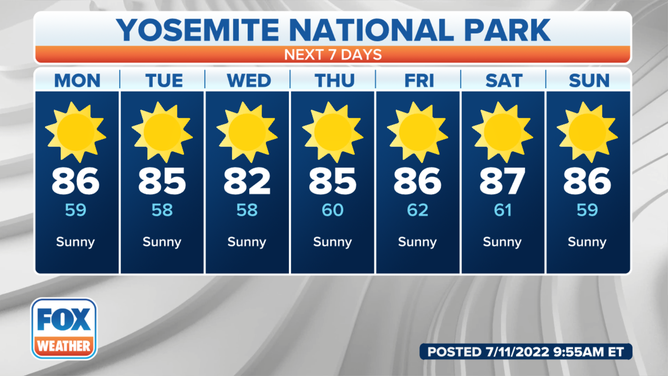 WHAT IS A TEMPERATURE INVERSION AND WHY CAN IT LEAD TO POOR AIR QUALITY?
Temperatures in Yosemite National Forest will remain in the upper 80s this week with no rain forecast. The relative humidity is forecast to stay in the teens and low 20s. 
The cause of the Washburn Fire is under investigation.