Woolsey Fire survivors still recovering from devastating 2018 blaze
The fire killed three people and did an estimated $6 billion in damage, and some are still recovering after the devastating blaze
AGOURA HILLS, Calif. -- It's been nearly three years since the Woolsey Fire burned its way through Ventura and Los Angeles counties right to the Pacific Ocean.
The fire killed three people and did an estimated $6 billion in damage, and some are still recovering after the devastating blaze. 
It might seem like things are back to normal outside the Seminole Springs Mobile Home Park. However, you can see still see signs inside from the fire today.
A utility meter still stands melted from the heat of the flames, and empty lots dot the neighborhood where 110 houses burnt in the fire.
The Woolsey Fire started on Nov. 8, 2018, sparked by faulty power company equipment. It began in Woolsey Canyon, a rugged area in the hills of Los Angeles County, and was pushed by strong, Santa Ana winds blowing from inland regions. The fire then moved toward the Pacific. 
Nearly 300,000 people were evacuated as the fire swept through around 97,000 acres of land, burning up the coastal canyons and destroying 1,643 structures.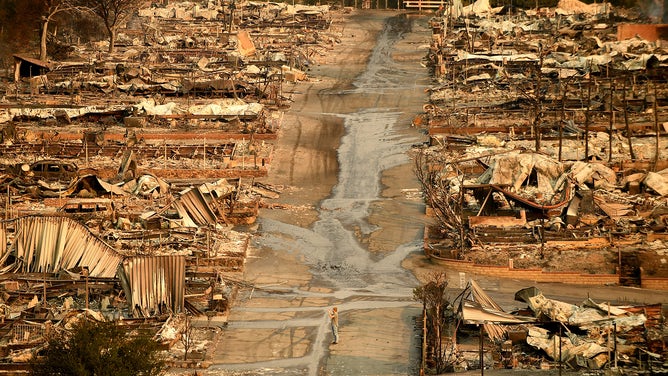 After the fire, many Seminole Springs Mobile Home Park residents still had to make payments on trailers that burned to the ground. Some were left living in hotels or even in their cars. 
But residents, like Jacqueline Peterson, banded together to help each other. 
Peterson lived through the fire. Her home was spared from the flames. She helped raise funds for neighbors in need and opened up her home to people who had lost everything.
"We never know when the next fire or flood is going to happen," Peterson said. "But we just need to know that we need to be together. We really need to be together and be there for each other and help. And it doesn't matter what kind of help you give; give it with your heart." 
While homes are rebuilt and the neighborhood comes back, Peterson said that things might never precisely return to the way they were. Many of her long-time neighbors moved away after the fire. 
And the emotional trauma of the Woolsey Fire still sticks with many of the people who stayed.