Not over yet: Videos of winter storm capture scenes from across Midwest
A storm dumped more than a foot of snow in portions of western Kansas on Thursday, while the Kansas City metro area picked up between 2 and 5 inches of snow
KANSAS CITY, Mo. – Don't put the snow shovels up, because winter is not over yet.
A storm dumped more than a foot of snow in portions of western Kansas on Thursday, while the Kansas City, Missouri, metro area picked up between 2 and 5 inches of snow.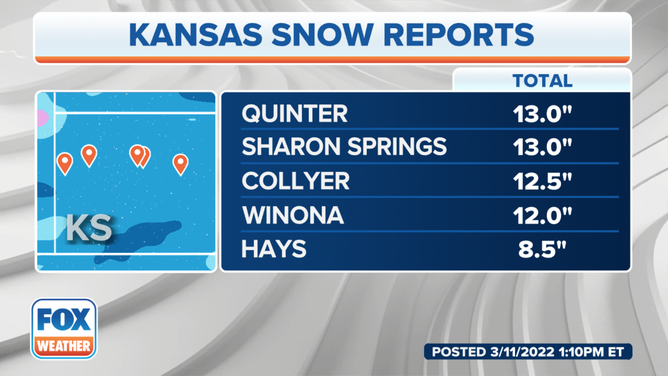 As of Friday morning, an expansive band of snow stretched from New Mexico, northern Texas and Oklahoma northeastward into the mid-Mississippi Valley and the southern Great Lakes.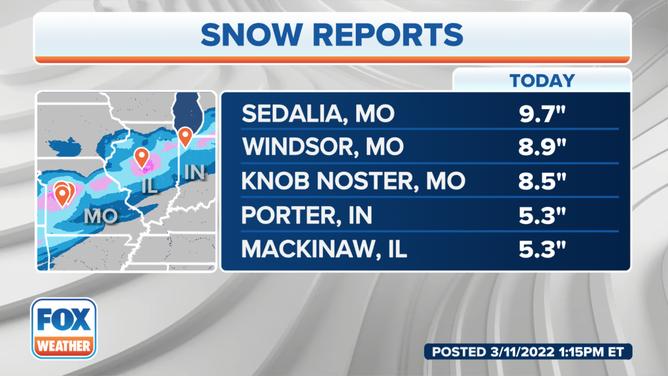 The National Weather Service in Norman, Oklahoma, said widespread snow accumulations, mostly light, are expected Friday. The highest totals are currently expected to be seen across the northern half of Oklahoma, as well as parts of southeast Oklahoma where 1 to 2 inches appear possible. In addition, at least a light glaze of ice is possible, mainly across southern Oklahoma and western north Texas.
On Thursday, several school districts in surrounding Kansas City, Missouri, canceled in-person classes after heavy snow fell. And for the second day in a row, some of those schools implemented weather plans to reduced in-person teaching.
The snow also caused the cancellation of a dozen flights at Kansas City International Airport and difficult driving conditions for motorists.
Residents in Northeast Kansas awoke to snowfall on Thursday, as the National Weather Service issued a winter storm warning for the area.
This footage, recorded and posted to Facebook by a local pet grooming service, shows dogs tearing through the snow in Manhattan, Kansas, on Thursday morning.
The Riley County Police Department, posted video to Facebook on Thursday showing snowy scenes in Manhattan located in northeastern Kansas.
The NWS forecast up to 7 inches of snow in the Manhattan area on Thursday, according to local media.
This same winter storm will intensify into a powerful "bomb cyclone" as it blasts portions of the East Coast with heavy snow and high winds on Saturday.