Winter returns to the Pacific Northwest
Record high temperatures and sun made Oregon and Washington feel more like Spring over the weekend. Winter returns with a cold front late Sunday and Monday.
After a Springlike weekend, Washington and Oregon head back into winter for the start of the workweek. A cold front brings early Monday rain, mountain snow and cool temperatures to the Pacific Northwest.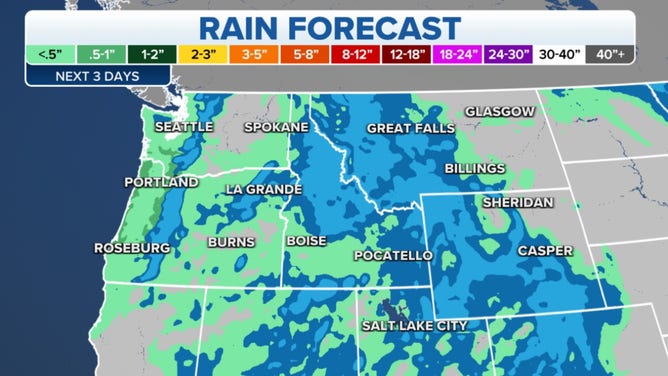 Coastal and valley rain will start just in time soak the roads for morning commuters. The rain, tapering off into Tuesday could total a half to an inch. Mountain snows appear to be in the 3-6 inch range around 2,000 ft. Higher elevations in the Cascades could see up to a foot of snow. The Olympics will only see 3-4 inches of snow.
The snow heads for the Northern Rockies for Tuesday and Wednesday.
Temperatures return to average for this time of year, around 50 near the coast. The weather remains unsettled through the week.
High pressure was in control for the weekend providing tons of sun. Offshore breezes took the February chill out of the air. The dry air warms as it slides down the slopes of mountains, called compressional heating.
WHAT ARE THE SANTA ANA AND OFFSHORE WINDS?
Check out how Portland quickly goes from 13 degrees above normal Sunday to cooler than average Monday. 

Vancouver, Washington; Portland, Oregon; Salem, Oregon; and McMinnville, Oregon all broke record high temperatures both Saturday and Sunday. The normal temperature for this time of year is around 50 but Saturday's highs for the cities hit the upper 60s Saturday and mid-60s Sunday.
HEAT ADVISORIES POSTED IN SOUTHERN CALIFORNIA, INCLUDING LOS ANGELES AND SAN DIEGO FOR SUNDAY