Wind chills push below minus 60, with blizzard conditions expected to hit parts of Alaska
A significant winter storm is still on track for late this weekend, along with very strong gap winds in the Brooks Range, Alaska Range and across the higher summits of the White Mountains
FAIRBANKS, Alaska – Blizzard conditions are expected to develop in far west-central Alaska.
The National Weather Service in Fairbanks said a significant winter storm is still on track for late this weekend, along with very strong gap winds in the Brooks Range, Alaska Range and across the higher summits of the White Mountains. An area of low pressure will track from the Gulf of Anadyr, then move inland somewhere across the Seward Peninsula.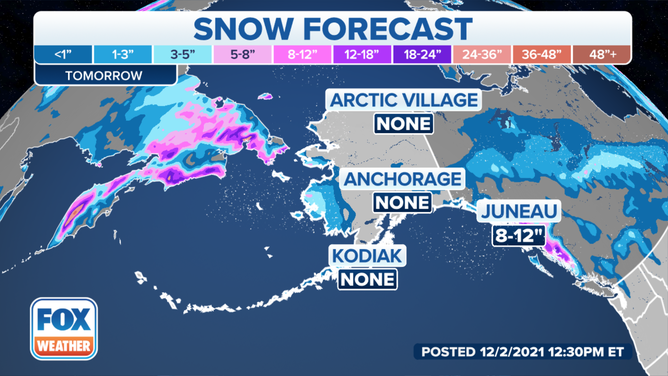 The storm may cause some coastal impacts in association with rising water and ice along the shore.
Coldest air of winter to hit central, eastern interior
Temperatures are expected to plummet the next couple of nights as the Arctic high settles in. The NWS said lower cold valleys will fall into the minus 30- to minus 45-degree ranges, which would likely be some of the coldest of winter so far.
Clouds will begin to shift eastward from fronts moving into the state's western coast, allowing temperatures to slowly moderate over the weekend.
Rapidly increasing southerly winds will develop through the Alaska Range beginning Saturday night, with blowing snow and bitterly cold wind chills, the NWS said. Over the North Slope, wind chills are expected to be in the minus 45- to minus 65-degree range.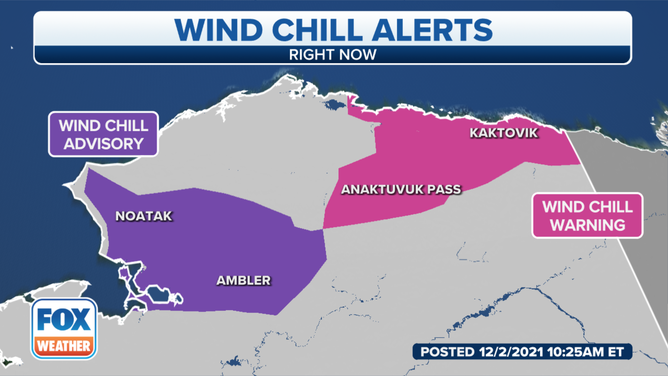 Winds will scream in western coast, western interior
A pattern shift develops Thursday as northerly winds wane across the Bering Strait. A remnant strong frontal zone will move across Saint Lawrence Island late Thursday, bringing strong southeasterly winds and blizzard conditions.
The front shifts to the state's western coast Friday, bringing snow and blowing snow from the Y.K. Delta to the western Seward Peninsula, and finally into Kotzebue Sound Friday night.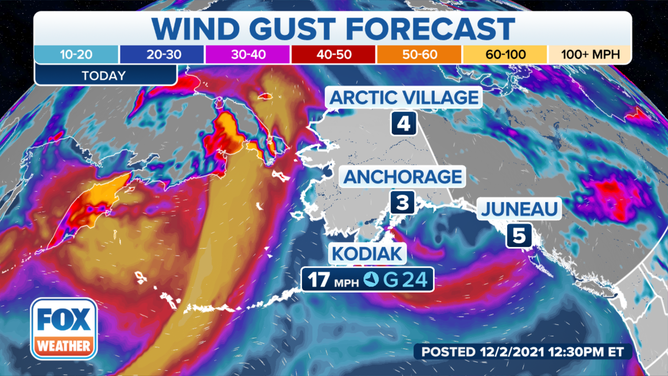 The falling snow will be rather light, which is why the NWS will maintain a Blizzard Watch for the Chukchi coast.
Southeasterly winds will scream from the southeast along the coast, with 40- to 60-mph winds and blowing and drifting snow, the NWS said.
Farther south, expect blowing and drifting snow across the Y.K. Delta as the front shifts inland.
Wind chills push below minus 60 degrees along North Slope, Brooks Range
According to the NWS, bitterly cold temperatures continue, with wind chills pushing below minus 60 degrees over the eastern Beaufort Sea. Westerly winds will pick up into the 15- to 20-mph range and wane Thursday evening.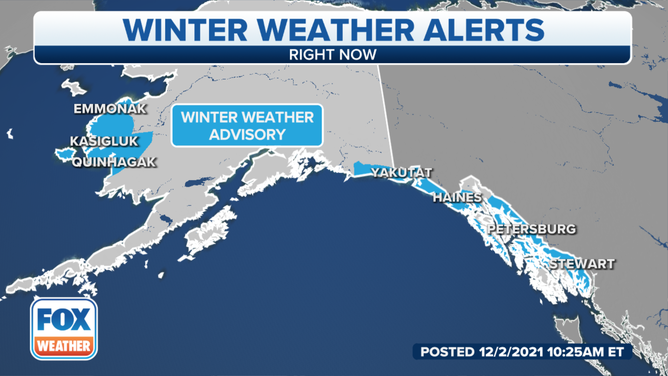 Powerful southerly winds will then develop across the Brooks Range and western Arctic Ocean. The strongest winds will mostly be across "no man's land" over the western Arctic Plains, the north side of the western Brooks Range and along the immediate Chukchi coast, the NWS said.
There will be a notable warmup for most of the region by Sunday as a more robust warm front shifts northward.