Western Kentucky University now says student did not die in Bowling Green tornado
The National Weather Service in Lousiville said a strong tornado in Bowling Green had at least EF-3 damage and estimated wind speeds 150 mph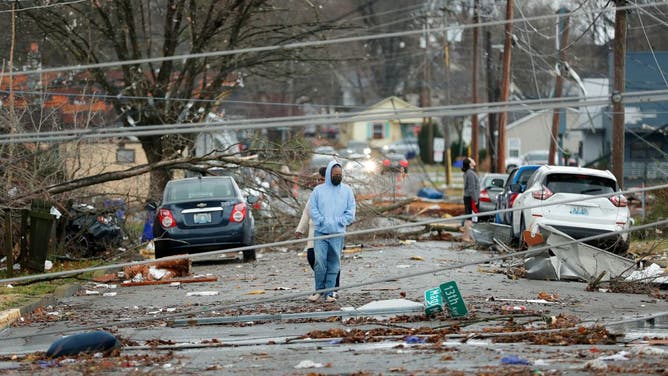 BOWLING GREEN, Ky. -- Officials at Western Kentucky University now say that a student who was set to graduate Saturday was not killed in an early morning tornado that ripped through Bowling Green, Kentucky.
There were no injuries or fatalities among the university's residential students, Western Kentucky University President Tim Caboni said in a clarification that was tweeted by the school late Saturday morning.
Officials said the updated information comes after the Warren County Sheriff's Office notified WKU's Emergency Operations Center.
"The student fatality earlier referenced is now believed to instead be the close relative of a WKU student. Information is still arriving, but currently WKU is not aware of any fatalities within the WKU student body," the statement read.

The university said they will not hold commencement activities.
"Out thoughts are with all members of our broader community dealing with unimaginable pain and loss this morning, including our students who lost close family members last night," WKU Spokesman Jase Lux said.
The National Weather Service in Louisville, Kentucky, said a strong tornado in Bowling Green had at least EF-3 damage and estimated wind speeds of 150 mph. The primary tornado was on the ground continuously for over 200 miles in the state. 
Kentucky Gov. Andy Beshear said he believes the death toll from the tornado outbreak in the state will exceed 50, and probably end up closer to 70 to 100 lost lives.
Campus staff has been working to assess the damage, establish temporary power, restore campus networks and phone lines and restart basic operations, Caboni said.
Primary structures on campus were largely spared from significant damage.
"A complete evaluation will take some time, as our main focus now is making sure that everyone in our campus community is safe," Caboni said. "In the coming days and weeks we will repair any damage and clear debris. But the significance of this event will remain with us forever."
The governor has issued a state of emergency and activated the National Guard. The state is deploying 181 guardsmen, including search and rescue and debris clearance teams.