Western warmup could challenge city records as some flirt with century-mark
More than 60 record highs are possible from southwestern California and the San Joaquin Valley to the Great Basin through Saturday
Widespread warmth and record heat are expected across the West through the weekend as drought conditions worsen.
Highs will soar to 10 to 25 degrees above average and reach the 70s and 80s. The deserts will likely reach the mid-90s.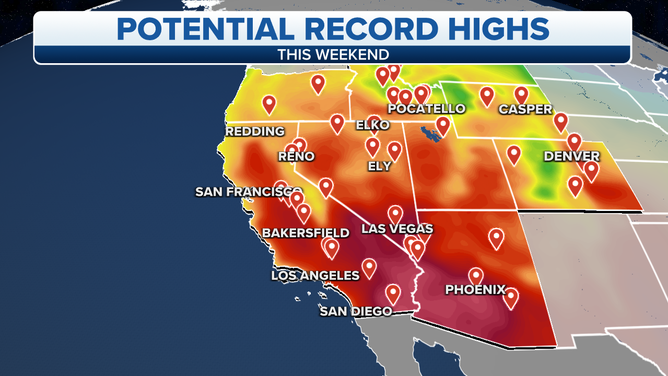 More than 60 record highs are possible from southwestern California and the San Joaquin Valley to the Great Basin through Saturday.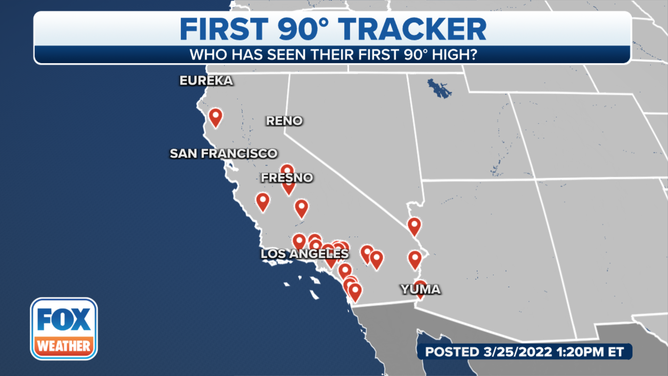 High temperatures will quickly climb through the 80s and into the 90s this weekend in Las Vegas and across much of the Mojave Desert region. 
Las Vegas hit 80 degrees on Thursday at Harry Reid International Airport, marking the warmest day of 2022 so far. The average first 80-degree day occurs on March 14. 
El Centro, California, will flirt with the century mark, with a forecast high of 98 degrees on Saturday. The earliest Needles, California, saw temperatures at or above 100 degrees was back on April 1, 2011. That record could be broken on Saturday.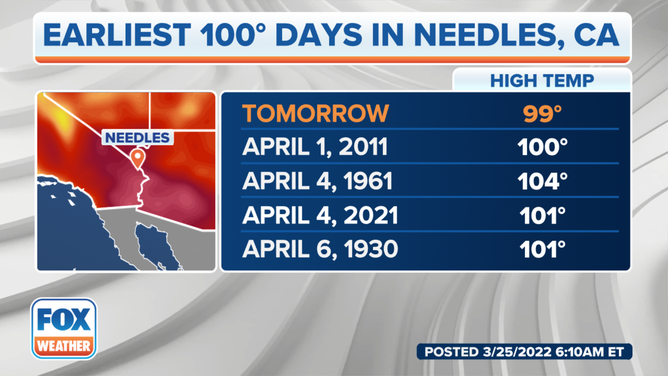 The heat is the last thing the below-average snowpack needs, as the wet season is quickly drawing to a close.
High temperatures throughout Central California on Sunday afternoon will be about 5 to 10 degrees cooler than Saturday's highs. Monday will be around 10 degrees cooler than Sunday, with afternoon highs near average for the end of March.
The National Weather Service in Phoenix said a weather system will bring chances for showers late Monday into Tuesday and maybe a few isolated thunderstorms Tuesday afternoon. Breezy to locally windy conditions will also be a concern on Monday, with wind gusts up to 40 mph. 
Temperatures in Phoenix will cool down early next week, bottoming out around 70 degrees on Tuesday.