Weather will not impact Macy's Thanksgiving Day Parade
New York City is expected to see temperatures in the 40s for the Thanksgiving Day Parade.
NEW YORK – Decent weather on Thanksgiving Day will mean millions will get to watch their favorite balloons, floats and even Santa Claus march down the streets of New York City without having to worry about the impacts of Mother Nature.
Meteorologists expect temperatures to be in the 40s, but more importantly, winds will remain well below the 23 mph criteria that would alter the lineup.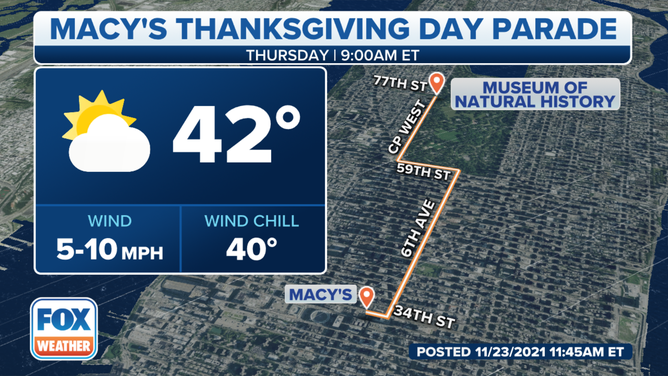 Winds are expected to gust upwards of around 10 mph, and skies will be partly cloudy on Thursday morning.
THE ONLY TIME MACY'S CANCELED THEIR THANKSGIVING DAY PARADE
A Macy's spokesperson says they usually have a licensed meteorologist and several weather monitoring stations on the route that will provide live weather conditions to organizers.
The 95th annual Macy's Thanksgiving Day Parade will feature 15 giant character balloons, dozens of floats, 800 clowns and 10 marching bands.
New giant balloons to be on the lookout for including Ada Twist, Ronald McDonald, Baby Yoda and a couple of Pokémon characters.