'Looking a little cold:' Cold-stunned iguanas litter Florida yard
When temperatures drop into the 40s green iguanas can become cold stunned.
It's been a rough week for the green iguanas who call South Florida home as freezing temperatures have continued even in even the warmest parts of the Sunshine State.
A cold front brought temperatures down to the low 40s and mid-30s in Miami on Sunday, which is also home to many green iguanas. The giant lizards are an invasive species to Florida and have now run rampant in Miami-Dade County since the first reports of the reptiles in the 1960s.
Iguanas are cold-blooded, and when the temperatures drop, the tropical reptiles slow and become cold-stunned. If they happen to be in a tree or some brush, they might fall during their cold-stunned slumber. In Miami, the National Weather Service has been known to issue "falling iguana" alerts when temperatures plummet.
On the rare occasion when the temperatures in South Florida drop to the mid-to-low 40s for about 8 hours or more, this is enough time for iguanas to become incapacitated. The iguanas usually snap out of it after a few hours.
Sure enough, the NWS Miami issued a "falling iguana" warning Sunday when temperatures were suitable for this cold-stunning process. A low of 40 degrees in Fort Lauderdale and 42 in Miami were reported on Sunday.
WHEN DO IGUANAS FALL FROM TREES IN FLORIDA?
"A cold morning ... not as cold as our friends to the north dealing with a blizzard, but we have our own lizards to worry about," the NWS Miami tweeted. "Did you really think with the coldest temperatures in over a decade, we would not warn you about falling Iguanas?"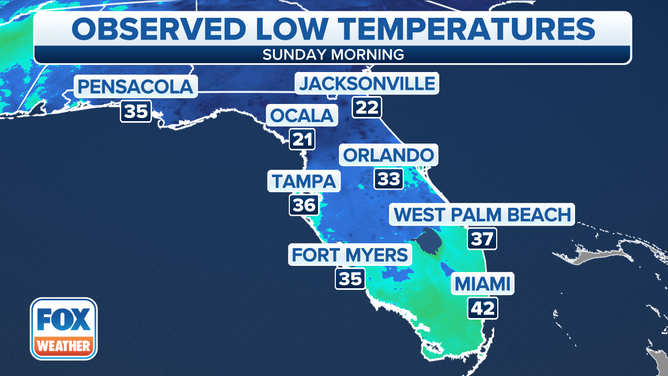 Stacy LoPiano-Kopsaftis found several huge and very still iguanas in her Hollywood, Florida yard. The iguanas looked like they had been paused and even changed colors in the cold, turning primarily white.
"He's still looking a little cold," she remarked about one of the still reptiles. "He's looking a lot greener," she said of another iguana apparently coming out of its frozen state.
As LoPiano-Kopaftis surveyed her yard with cold-stunned iguanas, one of them snapped out of its cold slumber.
"Oh, he went! Good job. You're OK, buddy," she said to the iguana.
Florida's cold stretch continued into Monday with freeze alerts issued by the National Weather Service for Central Florida and parts of the Treasure Coast.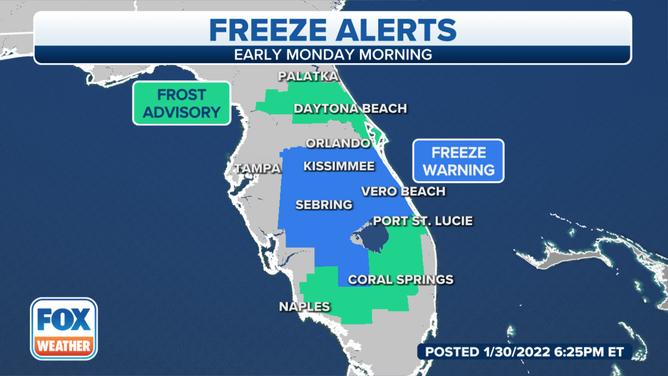 Southwest Florida saw some of the coldest temperatures across the southern part of Florida on Monday. Immokalee reported a 28 degree low, and Naples dropped to 29.