Tornadoes reported in north Georgia ahead of unsettled New Year's weekend
Friday's severe weather was one of several chances that Peach State could see for damaging winds, hail and tornadoes over the New Year's weekend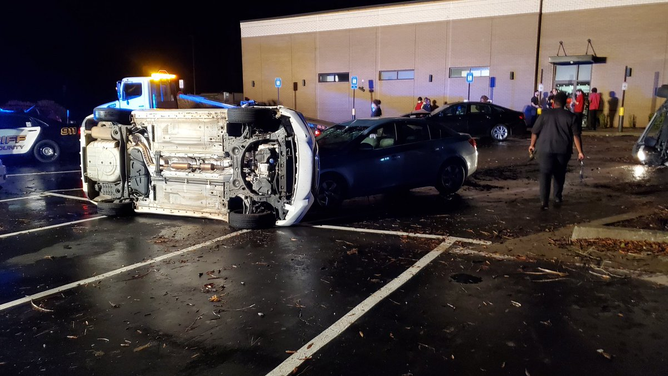 ATLANTA – Severe thunderstorms moved through parts of northern Georgia on Friday evening, knocking out power and leaving behind paths of damage.
Officials reported at least two communities in the Peachtree State saw damage from the tornado-warned storms.
Carroll County Emergency Management reported numerous trees down and at least one that fell on a home in Villa Rica, Georgia.
Damage was also reported Southeast of metro Atlanta, where a storm with a tornado overturned cars and damaged a school in Newton County.
Video from Covington, Georgia, showed at least two cars that were flipped by a tornado in the parking lot of a Chick-fil-A.
As of Friday evening, officials said there were only minor injuries.
The National Weather Service Office in Peachtree City, Georgia, is expected to survey damage sites to determine how strong the reported tornadoes were.
North Georgia was under a marginal threat for seeing severe weather on Friday, with a more significant chance of seeing severe storms over the New Year's weekend.
A strong cold front will make its way through the Southeast with the potential of producing damaging winds, large hail, tornadoes and flash flooding.

Nearly 30 million Americans are under the threat for seeing strong to severe thunderstorms on New Year's Day.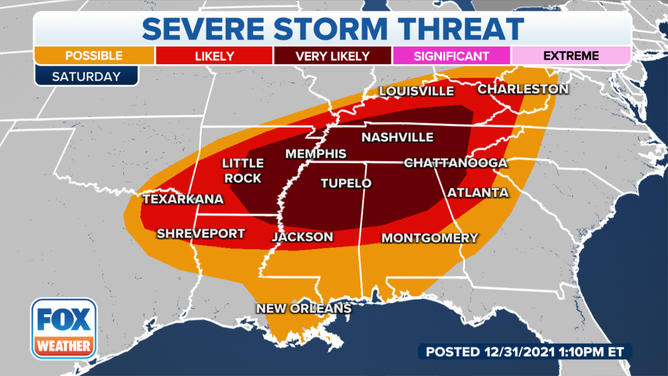 Download the FOX Weather app right now to track storms in your area.